GaylaJ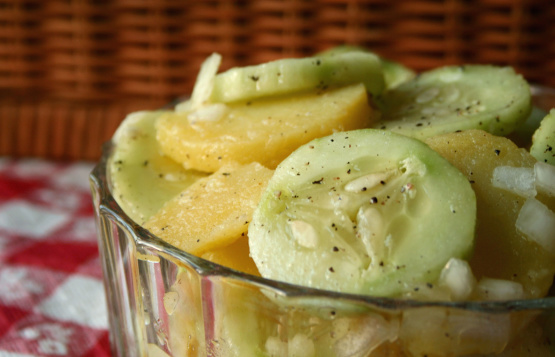 This mayonnaise-less potato salad recipe is from a James Beard cookbook. Be sure to pour the bacon drippings over the potatoes while the drippings are still hot so they will be absorbed.

Top Review by GaylaJ
A departure from the typical potato salad, and very good! I couldn't recall ever eating a dish with cucumbers and potatoes before, so I was curious how this would come together. It was a nice, refreshing change, and the bacon drippings were an excellent flavor booster. I used Yukon Gold potatoes and stuck with the white vinegar, even though I was tempted to sub a different kind. This salad would be especially good in the summertime (as I figure Mr. Beard intended), but we had a wintertime picnic in our family room, and it was great with the hot dogs we roasted in the fireplace. :) Thanks for posting the recipe!
Rub sides and bottom of bowl with a crushed garlic clove.
Peel potatoes while hot and place in bowl.
Let potatoes stand until cool.
In another bowl, slice cucumbers and sprinkle with salt and pepper.
Slice cooled potatoes and pour heated bacon fat over them.
Combine potatoes with cucumbers and onions and toss lightly.
Add oil and vinegar and again toss lightly.
Let stand 2 hours before serving.
Add more oil and vinegar if needed.