alligirl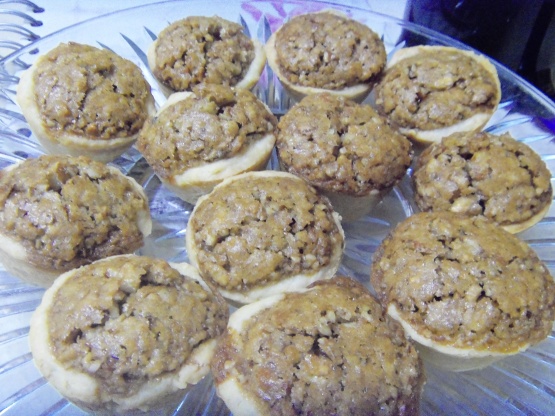 My mom makes these every christmas, and when we bring them to my grandmas, they are gobbled up right away! Enjoy! (oh, and a mint tart shaper from pampered chef is Veerrryy useful to have while making these!) I'm pretty sure this recipe came with the mini tart shaper!

Yum! We love pecan tassies, and these did not disappoint! A tart shaper would definitely be helpful when making this recipe. These mini bites would be perfect for a shower or dinner party, where finger foods are served. Wonderful with coffee! I will save this to my 'make again' file! Thanks so much for sharing, swimmer175!
For tart shells: beat butter and cream cheese until smooth.
Add flour, mix until soft dough forms.
Cover, chill at least 1 hour or overnight.
Preheat oven to 350 degrees F.
Shape dough into 1 inch balls, place into mini-muffin pan.
form into little shells with floured fingers. (this is where the tart shaper comes in handy!).
For Filling: Mix the rest of the ingrediants well.
Fill tart shells evenly with mixture.
Bake 20-25 minute or until a light, golden brown.
Remove from pan and place on cooling rack.
Sprinkle with powdered sugar.