Peanut Butter Pretzel Cookies
alligirl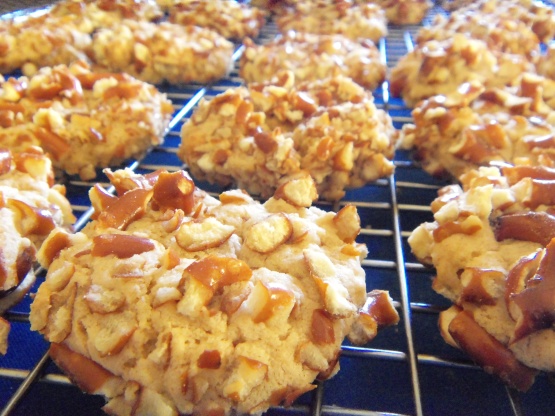 A tasty peanut butter cookie topped with chopped bits of pretzel. Salty and sweet in one bite!

I added one cup of semi sweet chocolate chips to the dough and omitted the chopped peanuts (the person I made these for doesn't like peanuts but likes peanut butter - go figure!). I chopped thin pretzel sticks for the recipe. Pretzel pieces flew everywhere. My dog was happy and thirsty by the time I was done chopping the pretzels. I used my small scoop and made at least 5 dozen cookies. The first batch looked like cookie balls because they didn't flatten out during baking. After the first batch, I flattened each cookie dough ball before I baked them. I heard that the cookies were a huge hit on the job site. I personally prefer crisp cookies and thought that if the cookies were soft, they'd soften the pretzel pieces. I baked the cookies for about 18 minutes. I will definitely make these again. Maybe next time I'll drizzle some chocolate on them after they've cooled down instead of putting chocolate chips in the dough. Thank you for posting this recipe!
Line 2 cookie sheets with parchment. Position racks in the upper and lower thirds of the oven and preheat to 350 degrees.
In a bowl, whisk together the flour and baking soda.
Using an electric mixer, beat the butter, sugar and peanut butter on medium speed until fluffy, about 5 minutes.
Add the eggs, 1 at a time, beating well after each addition and the vanilla.
With the mixer on low speed, gradually add the flour mixture, beating until just combined.
Stir in peanuts.
Place the pretzels in a bowl. Scoop dough by rounded Tbs.full and drop a few balls of dough in the bowl and toss to coat.
Place the cookies on the prepared pans.
Bake, rotating the pans after 10 minutes, until golden but still soft to the touch, about 15 minutes.
Let cool slightly before transferring to racks to cool.