Peanut Butter Chocolate Cupcakes
Sara 76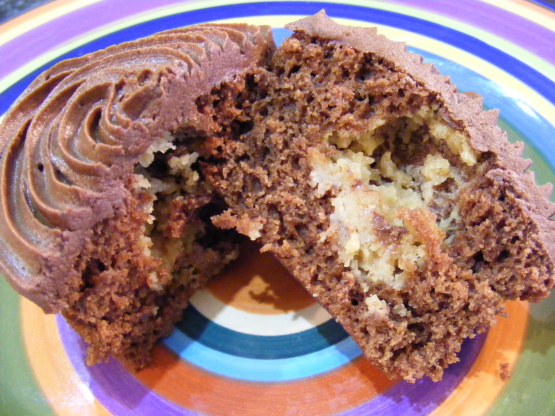 Since cupcakes are such a big thing right now, these are a sure to be a hit. They even have a hidden surprise!! The recipe calls for using jumbo muffin cups, but I use the normal cupcake size.

HELP! This was my first ever attempt at baking cupcakes from scratch, so I'm not going to actually rate this recipe yet. Here's my trouble.. I wanted to bake the cupcakes without the filling and make just regular sized cupcakes. I followed the recipe exactly with the omission of the filling. I got 16 cupcakes that taste really good, but fell completely in the middle. Anyone have any ideas on why they all fell?
In a small mixing bowl, beat cream cheese, peanut butter, sugar and milk until smooth.
Set aside.
In a bowl, combine sugar, flour, cocoa, baking powder, salt and baking soda.
In another bowl, whisk the eggs, water, oil and vanilla.
Stir into dry ingredients just until moistened. (batter will be thin.).
Fill paper-lined jumbo muffin cups half full with batter.
Drop scant tablespoons of peanut butter mixture into center of each.
Cover with remaining batter.
Bake at 350 degrees for 25-30 minutes or until toothpick comes out clean.
Cool 10 minutes.
Remove from pans to wire racks.
Cool completely.
Combine frosting ingredients.
Frost cupcakes.
Store in refrigerator.