Parmesan-mustard Mashed Potatoes
Parsley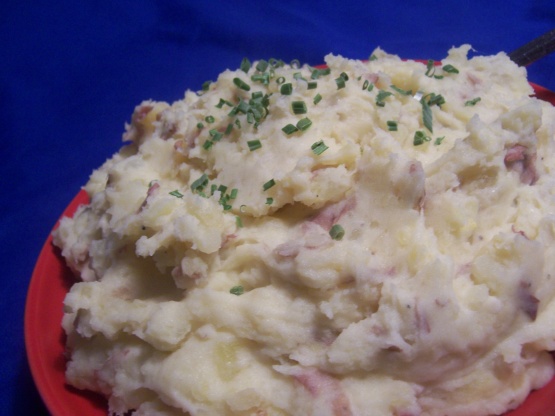 A very tasty and easy to make Mashed Potato recipe.

Top Review by Ducky
DH kept scooping these onto his plate and 23 mo DS made an entire meal of them. So easy to make and we didn't even need to put butter on these mashed potatoes! I used about 2.5 Tbsp mustard and 2C cheese. DH loved the taste even though I couldn't taste the mustard. DH wants these again! Thanks for the recipe.
If using red potatoes, scrub skins off: DO NOT PEEL; then cut potatoes into quarters.
If using Yukon Gold potatoes, peel and cut into chunks.
Place potatoes in a large saucepan or cooking pot, cover with water and bring to boil on high-heat.
Reduce heat to medium-low and boil gently, partially covered, until fork-tender; 15 to 20 minutes.
Meanwhile, pour 1 1/4 cups of milk into a 4 cup microwave safe measuring cup.
Add sour cream, garlic, 1 tablespoon of mustard, salt and pepper.
Whisk until mustard is well blended.
Microwave on HIGH (full power) until hot, about 2 to 3 minutes, stirring half way through.
Drain water from cooked potatoes and discard.
Return the potatoes to the saucepan and place on the hot burner and stir potatoes until the liquid evaporates.
Turn burner off and mash potatoes using a potato masher.
Stir in enough hot milk mixture to make potatoes creamy.
Stir in cheese and mix well until melted and blended.
Add remaining 1 tablespoon of Dijon mustard and mix well to incorporate.
Adust seasonings to taste.
Serve hot when ready.
NOTE: Padano cheese is the next best to Parmigiano Reggiano cheese, less expensive and is almost as good.
This recipe doubles well.