Liasse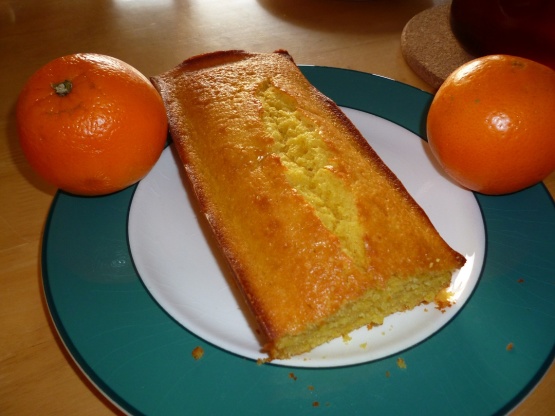 This recipe is for kids, it encourages kids to get involved in the kitchen and at the same time to have fun! - The idea of this recipe was from http://pubs.cas.psu.edu/Freepubs/pdfs/ua209.pdf - The kids (Little Miss (DD) and my niece) made this for their grandmother. They had lots of fun counting and watching the jar change when the different ingredients were added. They were quite proud of themselves when they seen the end result. We topped it with melted white chocolate with a little copha and orange food dye. Suggestion with the recipe is grease the base or use baking paper on the bottom.

Top Review by Liasse
This definitely isn't a recipe for kids only!
I was in high-need of a Orange cake recipe that didn't ask for butter, as it was a Sunday and I craved cake to no end despite not having butter in the fridge. So this recipe was a true life-saver.
I used a mixer,halved the sugar and added some Vanilla aroma orange zest.

My boyfriend exclaimed immediately that this was the best tasting cake I had ever made.

Highly recommended to people who might be in the same situation as I was ;)
Pre-heat oven at 180oC/350oC/Gas 4.
Break 2 eggs into a large top jar/container with a tight fitting lid. Seal and shake 10 times.
Add, sugar, oil, orange juice, seal and shake 20 more times or until blended.
Add, self raising flour, baking powder, salt, seal and shake 50 more times or until smooth.
Pour into square cake pan (8 x 8 inch) and bake for 20 minutes or until cake comes away from the sides or until skewer comes out clean when inserted into the centre of the cake.
Ice with your favourite icing/frosting or sprinkle icing sugar.