One-Skillet Crustless Zucchini Quiche
kindcook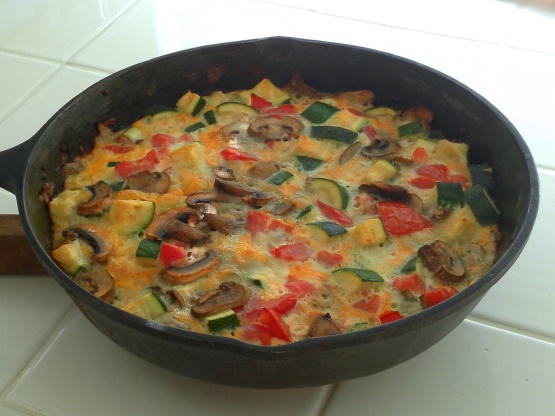 For anyone like me looking for a few more healthy dinner recipes, this is a nice addition. Very convenient as everything is cooked (and baked) in one skillet! I salt and pepper to taste. Great when served with red grapes.
Heat oil in large iron skillet.
Saute onion on medium/low heat until clear, then add garlic and zucchini and cook, stirring frequently, for two minutes.
Add mushrooms and tomatoes and cook a minute more, still stirring frequently.
Turn off heat.
Add beaten eggs to vegetables and mix well.
Sprinkle cheese on top and put skillet into oven.
Bake at 400 F for 25 minutes.
Cut into wedges to serve.