Parsley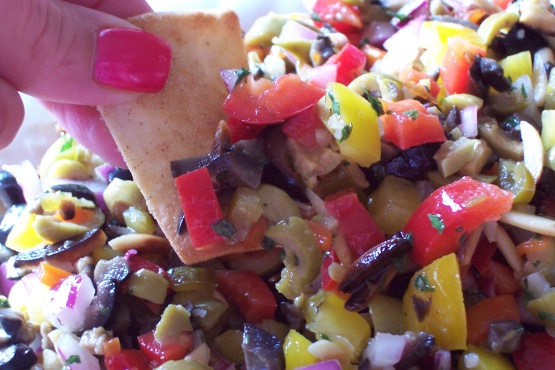 A salsa with no tomatoes, for olive lovers. It's full of strong flavors. Can be prepared in a food processor, but I just chop with a knife. Serve with tortilla chips, bagel chips, crackers etc.

What a great keeper recipe. I subbed toasted walnuts (Pine nuts at $25 a pound!) and loved the outcome, I also cut the jalapeno to one because there were some wimps at this eating event. Just right for everybody and it is good to make a day ahead of time too.
To toast pine nuts heat in a small skillet over low heat, stirring frequently, until lightly browned.
Drain olives well and chop.
Very finely chop garlic Seed and remove membranes from halapenos and finely chop Dice onion, red and yellow peppers Combine all ingredients and add olive oil and vinegar, mix well Chill several hours or overnight, bring to room temperature to serve.