Olive Garden Zuppa Toscana Soup
sheri77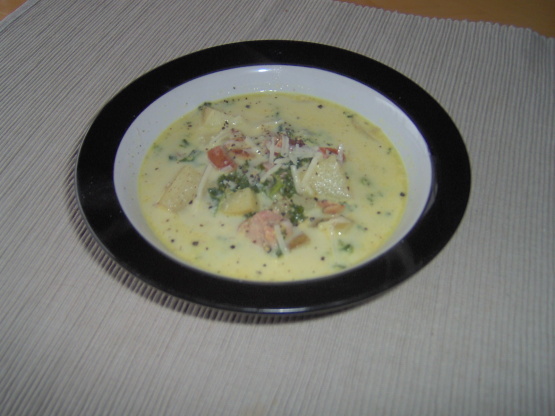 I got this recipe off this group i joined and I've been dying to try it out. I haven't been to olive garden in over a year, so this is as close as i can get. Honestly, I could barely tell the difference, and it was my favorite part of eating there. The soup. This is SO good, and excellent with breadsticks! I garnish it with shredded parmesan cheese and fresh ground pepper. Jan 2011- ETA I just wanted to thank everyone for the great reviews...this is still a staple in our house, glad to see so many enjoying it!!! Thanks again!!

Best recipe of this soup ever. I am kind of a novice in the food cooking game but I have ventured in a lot of recipes over the last couple of months. I would have to say if you blindfolded me and put this recipe infront of me and not the actual Olive Garden kind I would have never even noticed the difference. I think next time I will rinse and strain the meat before adding it because I cooked my own sausage instead of using precooked meat. I also carmalized the onions and garlic with the meat and added some to the soup. I also precooked the potatos to a firm but cooked stage before adding the rest of the ingrediants. Very delectible with homemade cheesy breadsticks. I give it 5 stars....Keep the good recipes coming!
Place onions and bacon into large saucepan and cook onions over medium heat until they are almost clear. Add garlic and cook for 1 minute.
Add chicken bouillon, water and potatoes, bring to a simmer for 15 minutes.
Add remaining ingredients and simmer for 5 more minutes then serve.