Olive Garden Copycat Zuppa Toscana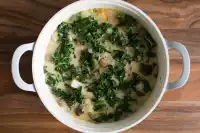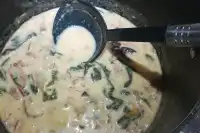 Ready In:

1hr

Ingredients:

14
directions
Chop or slice uncooked sausage into small pieces and cook until browned and meat is ground in bottom of your soup pan over med-high heat.
Add onions, garlic, salt, pepper, and red pepper flakes to Sausage and cook until onions are clear and aromatics of the seasonings blend together.
Reduce heat back to medium and place, potatoes, in the pot. and slowly add the Chicken Stock and water and stir. (use Chicken Bouillon envelope for extra flavor is Chicken Stock is weak).
Cook on medium heat until potatoes are done and stir occasionally. Once Potatoes are done, Add flour or cornstarch and simmer for another 15 minutes.
Reduce heat to lowest setting and sprinkle in your kale and cooked bacon and slowly pour cream while stirring.
Check for taste and then serve.
Questions & Replies

Reviews
Yum yum yum... this soup totally blew me away... it's DELICIOUS. As a former Olive Garden employee who has the taste of Zuppa Toscana burned in my tastebuds, I can truly say that my soup tonight came out as a PERFECT match. I did customize this recipe with the help of previous readers, so I recommend following it like this... I used 1 lb of hot Italian sausage, 3 medium to large potatoes UNPEELED, 1 small onion, 3 strips of thick sliced bacon, 4 cloves of garlic, 3 cups of kale (veins removed and sliced thin like ribbons), 32 oz of chicken broth, 2.5 cups of water, and 1 1/4 cups of half and half. I removed the casings from the sausage and browned the meat in a skillet, then putting aside in a stockpot. Then in the same skillet, I cooked the bacon and onions side by side, and put the onions in the stockpot, and went to work chopping up the cooked bacon and also putting in the pot. Then I sliced up all the potatoes... leave the skins on!... it creates awesome ribbons in the soup that add texture and flavor. I sliced them lengthwise and then in half into 1/4 inch thick triangles. Then I put the chicken broth, minced garlic, and water and let boil for about 30 minutes, until the potatoes were tender. Then I added the kale and half & half and let simmer another 15 minutes or so until the kale was tender as well. Although the hot sausage left a reddish colored film on top of the soup, it properly seasoned the soup without needing crushed red pepper (which the real OG recipe includes). Remember this soup should have a nice zing to it so I found that hot italian sausage worked beautifully. What a fabulous soup for this chilly weather!! Bon Appetit!

 

WOW, I made this recipe for the 2nd time. Since I was no newbie to it I went in with confidence & changed a thing or two. If your into Robust flavor, spice & don't mind a tip or two listen up... ONE- fry up some real bacon and let it hang on a paper towel once done.... TWO- please 4 the love of all that is good, saute those onions!!! (I would just throw them onto the leftover bacon fat and saute' from there) once the onions are translucent toss in the garlic and let it do its thang (watch it carefully so the garlic doesn't burn).... Three- if you Hispanic I know you have a little store bought Sofrito in the fridge (if you as blessed as I am, you'll have some of Wella's in a butter container or glass olive jar on hand) any who- toss a small spoonful of it into your onion mix, a pinch or two of some dry herbs (use common sense) and let it saute... Four- Once that's done, toss the onion mix back to the pot, throw your sliced potatoes to the party and let them catch some flava -flave (I learned to throw in like 3 more potatoes to the recipe, if you are into a broth fest than use as many potatoes as the recipe asks).. Five- b/cuz me and little man love spice I throw my hot Publix brand (it's the best) sausage to the mix and also add a tbs of red chili flakes - toss it all together for about 2 minutes, then add all the wet ingredients. Also, I add a mountain of the Kale (at least 4 cups, if u want 2 get crazy like me go for 5.. since it wilts away I don't see it being a big deal.....Besides I'm trying to add as much green to little mans belly as possible)... Six - let the soup do what it does till the potatoes are tender and what I did was take a potato masher and gave it a mash or two for some thickness. (It's been record cold in the FL these past couple days and I wanted to get cheesy and make this nice hot green filled soup for me and my boy on a cold Sunday night so for the sake of my picture perfect day I wanted the soup a little heartier than brothy so I also added about a tbs of Wondra (thickener). This was our only course along with some garlic bread sticks and it was a freakin HIT!!! Enjoy!

 

I made this for my father-in-law who loves this soup. It was part of his birthday meal and according to him it really does taste just like the Olive Garden's. I never had the soup before but it was very good. The only thing he suggested was to rough mash a little of the potato to give it a thicker consistency. Other than that he gave it a 5 star rating. Thanks for sharing this recipe.

 
Tweaks
Zuppa Toscana Pasta/Rice Sauce 1 pound ground Italian sausage 1 - 2 teaspoons of minced garlic 1 large white, yellow or vidalia onion diced Salt to taste Pepper to taste 1 cup Water 2 cups Heavy Whipping Cream Red pepper to desired heat level 8 to 12 ounces of Chopped Cooked Bacon No Flour No Cornstarch No Chicken Broth or Bouillon No Accent Seasoning Cook Sausage Spoon out cooked sausage and set aside Add minced garlic for one minute and cook stirring constantly. Do Not Burn. Add onion and cook until soft. Add bacon and cook for 2 minutes. Add sausage, water, whipping cream and cook, stirring occasionally. Add salt and pepper to taste Add chopped/diced Kale. Stir and turn off heat Let rest for 5 minutes before using. Stir after resting. Add pasta or rice to the sauce and stir together or ladle sauce over pasta or rice. If preferred, use sauce with cooked potatoes. I use Moderna Vermicelli or Elbow Pasta. Signed, Mr Christopher A Gass U.S. Navy Veteran