Olive Garden Pasta E Fagioli
SharonChen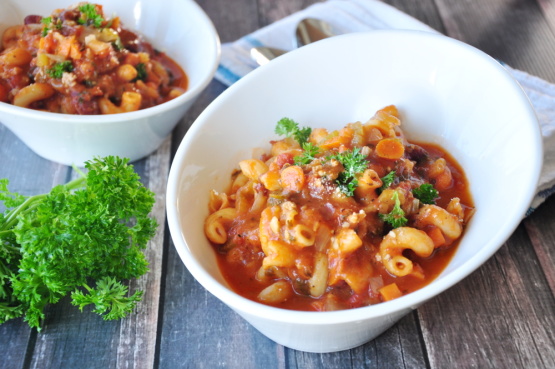 This is a copycat version of the soup from the Olive Garden.

After doing a comparison, my family and I both agree that this recipe came out even better than Olive Garden's! P.S. If you use Campbell's Beef Broth it comes out the best!
Sauté beef in oil in large 10 quart pot until beef starts to brown.
Add onions, carrots, celery and tomatoes and simmer for about 10 minute.
Drain and rinse beans and add to pot. Also add beef stock, oregano, pepper, Tabasco, spaghetti sauce and noodles .
Simmer until celery and carrots are tender, about 45 minute.
NOTES : Makes 9 quarts! Just cut the recipe down for smaller batches.