My Honey's Apple and Apricot Pie
Prep 10 mins
Cook 25 mins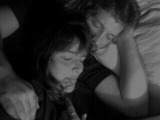 This recipe makes two wonderfully delicious pies which is great for OAMC. If you want less crumble topping, just double the pie ingredients, and you can make 4 lucious pies. You can freeze them just before baking to enjoy another time, (Just be sure to increase the cook time to 50-55 min for a frozen pie). The crumbled topping stores well in the freezer so you could even make one pie at a time if that is your choosing. We adapted this from Chef #422893's wonderful Apple, Apricot & Honey Crumble making it lighter (reducing down the calories, fat, and carbs) and revised it into a pie form. We have made this using Sunmaid dried fruit bits in place of the apricots (which requires no re-hydration). Enjoy. :)
Apple Apricot Filling

170.09 g dried apricots, quartered (scissors make this easy)
8 apples, cored peeled and sliced thick (we use granny smith apples)
78.07 ml chopped pecans
4.92 ml cinnamon

Crumbled Topping

118.29 ml butter, melted
517.37 g box French vanilla cake mix (Duncan Hines Moist Deluxe)
158.51 ml Quaker Oats
78.07 ml sliced almonds, crushed

Other ingredients needed

2 (18 inch) deep dish pie shells (un-baked)
78.07 ml honey
Directions
FILLING: Place apricots in a heat resistant bowl and pour enough boiling water over them to cover. Allow to soak for 5 mins or until soft. Drain. Combine all filling ingredients in a large bowl.
CRUMBLE TOPPING: In a separate bowl, place dry cake mix, oats, and almonds. Pour melted butter over top and stir, tossing to separate and crumble.
ASSEMBLY: Preheat oven to 425°F Spoon filling into pie crust. Drizzle with honey. Spoon crumble mixture over fruit filling and bake for approximately 25-30 minutes.
Reviews
Most Helpful
Well, I didn't get 2 pies from this, but it wasn't because I couldn't have done so ~ I used a 10 inch deep dish pie dish & mounded it with filling, probably using 3/4 of it in the pie! The rest of the filling I put in a smaller casserole & covered it with some of the topping & baked it, then used it for a topping for ice cream! The pie itself was OUTSTANDING & the recipe a definite keeper! [Tagged, made & reviewed in Please Review My Recipe]
Omg! These are wonderful and the butter vanilla crumb topping is tdf! The apples and apricots drizzled with honey and sprinkled with cinnamon was sweet and the apples and nuts were crunchy delicious and overall, it's just perfect! I could have divided the crumb topping into 4 pies as you suggested but I didn't and I won't since it makes the slice of pie huge..lol Once again, I found a keeper that would impress our (mng everyone as I plan to show this off thanks to you! :D) palates and our visuals. Definitely, more than 5 stars! Thanks so much, 2Bleu!