Awesome Gluten Free Apple Pie With Crumble Topping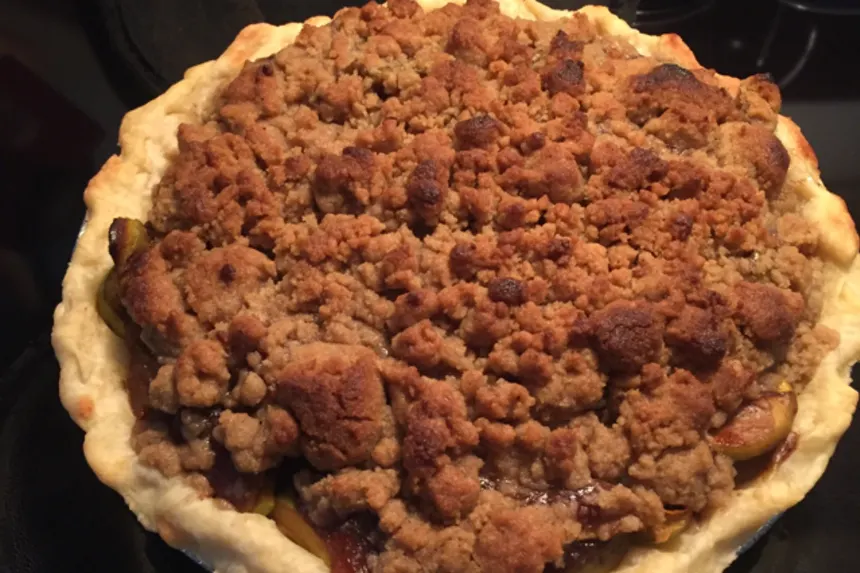 photo by Anonymous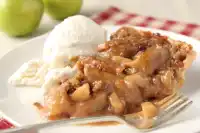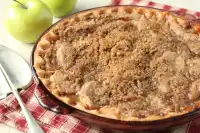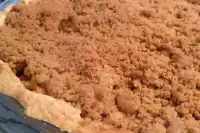 Ready In:

1hr 15mins

Ingredients:

16

Yields:

1

pie (with left over crust for another)

Serves:

8
ingredients
Pastry Crust Makes Two Crusts

1 1⁄2

cups gluten-free flour (Bob's Red Mills All Purpose Gluten Free Flour, Avail at Kroger & online)

1⁄3 cup cornstarch
1⁄2 cup sugar

1

teaspoon xanthan gum (Bob's Red Mills)

8

tablespoons butter, cut into pieces

1

large egg

1

tablespoon gluten-free vanilla extract (Available online at the Gluten Free Pantry)

Apple Filling

7

medium apples, peeled, cored and very thinly sliced. Use mildly sweet to tart very crisp apple (such as Granny Smith, Braeburn, Cortlands)
1⁄2 cup sugar

1

teaspoon ground cinnamon
1⁄4 teaspoon ground nutmeg
1⁄4 teaspoon salt

Crumble Topping

3⁄4 cup light brown sugar
3⁄4

cup gluten-free flour (See above)

1⁄2 teaspoon ground nutmeg
1⁄3 cup butter, chilled & cut into small pieces
directions
***Pastry Crust Instructions***.
In a mixing bowl stir together the flour, xanthan gum and cornstarch.
Then add the sugar, butter, egg and vanilla and mix until combined.
Remove dough from bowl and knead and fold on a surface dusted with GF flour until well well combined.
Divide into two pieces and wrap in plastic wrap, place one in the refrigerator to chill and place the other in the freezer for later use.
--Go ahead and make Apple Filling while the Pastry Crust is chilling.
--.
After approx 20 minutes, remove dough from refrigerator and roll into a ball.
Using a rolling pin, roll the dough out on a lightly GF floured surface until it is the thickness of a normal pie crust.
Place crust in a 9 inch glass pie dish that is lightly sprayed with non stick spray.
Using a fork poke a bunch of holes in the sides and bottom of the crust.
***Apple Filling Instructions***.
In a large bowl mix apples, sugar, cinnamon, nutmeg and salt.
Set aside and let the juices mix.
***Crumble Topping Instructions***.
In small bowl mix together brown sugar, GF flour and nutmeg.
Next mix in the chilled butter and cut it in with a fork or other tool until you have a course crumbly mixture.
***Assembling your Pie***.
Preheat oven to 400°F.
Spoon apples into your pie crust, mounding in the middle and pouring the sugary juices over top.
Sprinkle your Crumble Topping all over the top (use it all).
Use tin foil to cover edges of crust as it will burn easily.
Bake for approximately 35 minutes, topping will be lightly browned and filling will be bubbly.
Let cool for at least an hour before serving.
Reviews
i tried this recipe but with a strawberry and rasberry filling, it was great. my boyfriend is coeliac and he misses cakes and pastries so much, this made his day, everyone who tried it enjoyed it and i even made gluten free jam tarts with the pastry that was left over!..... couldnt help notice that you missed out the xanthan gum on your pastry directions, but included it in ingrediants, great recipe tho and will def use again thanx!!!!

 

This pie did not turn out that great for me. I do, however, think it is worth trying with some tweaking. I used King Arthur All Purpose Gluten Free Flour. <br/><br/>The crust is a great basic recipe. It tasted more like shortbread. I had to add some cream to it, because I could not roll it out - it just crumbled. Next time, I would bake the crust until it was slightly golden before I add the filling. The crust just kind of melded with the filling and it got lost in the pie. There was no juxtaposition of textures (crust vs. pie filling). I took the left over crust and made little pies with jam. They were a huge hit. <br/><br/>I cooked the pie the recommended time and the apples were too crisp. I did cut them very thin. Next time, I will cook the pie longer. <br/><br/>The topping was ok. It hardened during the cooking process (the sugar melting) and was not a crumb topping. It was a crisp sugar topping. Next time I will use nuts or rolled oats or something to get a more traditional crumb texture. <br/><br/>Overall, I think this recipe has good bones, it just needs some finessing.

 
RECIPE SUBMITTED BY
Born in New England, but raised in the Southeast US I have had a wide variety of influences in my food tastes. Being gluten free for almost 20 years due to Celiac disease, I have learned that I can make almost anything free of gluten if I try. A recipe to me is just a guideline, I tend to modify everything either to be gluten free or to my tastes. I love to bake, cook and grill. I joined this website when it was still RecipeZaar and will be updating some of my older recipes that I have since modified.
View Full Profile