Boomette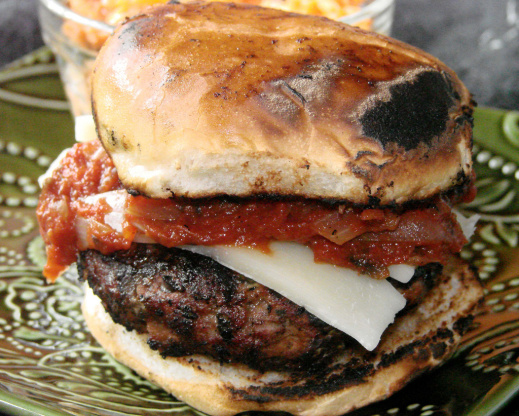 A recipe from Taste of Home Guilt Free Cooking cookbook. These are great burgers. We enjoyed them.

I had some mushrooms that were just beginning to age and this was an excellent way to use them. The sauce is flavorful and the burgers very moist and yummy. I chopped the mushrooms going into the burger rather small so that they would be easier to mix into the meat and that worked well for me. They were a tad messy with dripping sauce but that part of the fun? :D
In a small skillet coated with cooking spray, saute mushrooms and onion for 3 minutes. Add garlic and oregano; saute 1-2 minutes longer or until onion is tender. Stir in tomatoes. Cook, uncovered, over medium-low heat for 5 minutes, stirring occasionally. Set aside and keep warm.
In a large bowl, combine mushrooms, basil, egg white, parmesan, breadcrumbs, salt and pepper. Crumble beef over mixture; mix well. Shape into 6 patties.
Coat grill rack with cooking spray before starting the grill. Grill patties, covered, over medium-hot heat for 4-5 minutes on each side or until meat juices run clear. Top patties with cheese and the tomato sauce. Serve over buns.