Multigrain Blueberry Pancakes
KateL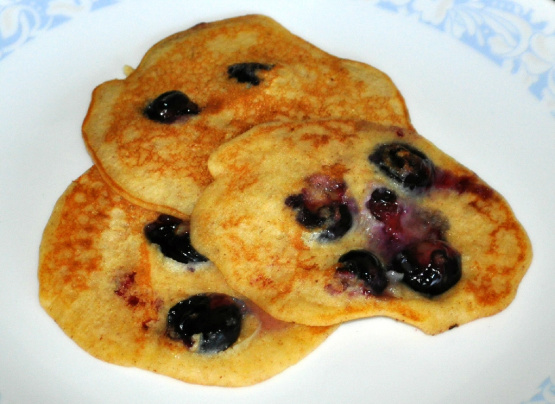 Do you ever crave certain types of food and not know why? Well, for me, it's been blueberries! In this recipe, four different grains offer a wholesome twist on the classic blueberry pancake. You may top with blueberry syrup or traditional maple syrup. Adapted from Country Living magazine(August 2001). Enjoy!

Top Review by KateL
Great taste, DH wants more of these! The batter was thin, so I was more successful when I made smaller pancakes. My blueberries poured out together, so next time I would leave the blueberries out of the pancake mix and sprinkle them on right after pouring the batter on the griddle. When I flipped the cakes, sometimes the blueberries dislodged themselves. One solution is to add the blueberries via blueberry jam on top of this very delicious pancake batter. We topped our pancakes with blueberry jam based on Recipe #248627 #248627 (which was VERY sweet). Made for Please Review My Recipe tag.
Batter:.
In a large bowl, combine the flours, cornmeal, oats, sugar, baking powder, salt, baking soda, and nutmeg.
Using a whisk, add in buttermilk, butter, honey, and eggs to dry mixture until a smooth batter forms. Gently fold in blueberries.
To make pancakes:.
Preheat the oven to 250*F.
Lightly coat a nonstick skillet or griddle with veg. oil cooking spray(or a teaspoon or more of vegetable oil) and heat over medium high heat.
Once hot, pour 1/4 cupfuls of batter to form pancakes and cook until the tops bubble and the edges begin to crisp.
Turn each pancake over and continue to cook until both sides are golden brown.
Transfer pancakes to a baking pan and place in oven to keep warm until ready to serve. Repeat until all batter is used.
Serve hot. Enjoy!
Note: This makes about 4 cups batter.