Muesli in a Slow Cooker / Crock Pot
jenne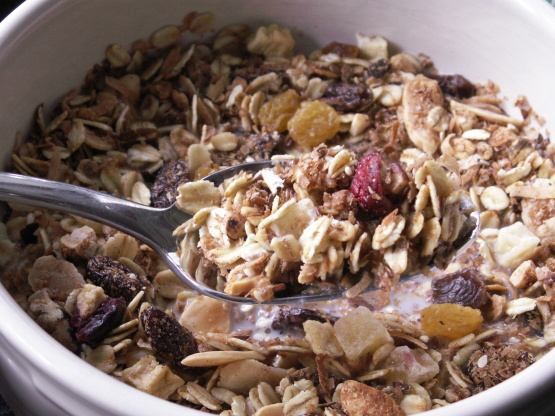 Crunchy muesli that the whole family will adore. Beats any store bought Muesli hands down and much cheaper too. PS: If you enjoy 'Fast Food' and lots of sweet things, please don't try this recipe. It is quite possibly a recipe that is not designed to appeal to an American palate. It is more of a low fat/low sugar version, a breakfast that will keep you going for hours without the hit of a low blood sugar levels within a short period of time. I find that when I have this for breakfast, I'm not hungry again until 1 - 2 pm. Enjoy!!

I'm not a huge fan of granola and oats usually because there are too much raisins and not enough nuts, but when I've had it in other countries, it is simply fantastic. I've tried making or finding recipes similar to what I've had but without much success. Well, this recipe definitely fits the bill for me. I don't know that it's exactly the same, but the flavor is just fantastic. And I love that you can vary the ingredients to your taste and I can see how I'll be able to eat it in a variety of ways. Right now I'm eating it mixed with labneh, kefir and jarred peaches. It's more like dessert for breakfast! I made the recipe last night and followed the recipe steps, but made these few minor changes to the ingredients to suit my tastes: instead of raw sugar, I used brown sugar. I didn't use any of the suggested nuts/seeds. Instead I used slivered almonds, chopped pecans and chopped macadamia nuts, and more than what the recipe calls for because I love nuts. For the dried fruit, I used only currants and cherries, chopped. I also added some flax seeds. I think any combination of seeds, nuts and dried fruit that suits you will work. That's what I love about the recipe - it's highly customizable. The next time I make it I might add some dried papaya instead of cherries. Besides mixing this muesli in with yogurt, I think I will try it as a topping to cooked apples, as well as using it as just a cereal with milk. This is a fantastic recipe, and it's got just the right amount of sweetness to make it enjoyable. And needless to say, it's a healthy recipe. This is definitely going into my keeper box. Thanks for sharing an awesome and tasty recipe!
5

cups rolled oats

1

cup baking natural bran

1

cup wheat germ
1⁄2 cup coconut (desiccated, thread or slices)
1⁄2 cup raw sugar (white will not work)

4

tablespoons oil (I use olive)

2

teaspoons vanilla

Extras

pumpkin seeds
linseeds, Use any mixture of the above up to 1 1/2

Dried fruit

dried apricot
dried apple, etc. About 1/2 to 3/4 cup
Pre-heat the crock pot on high for 20 minutes.
Combine grains, seeds, nuts, sugar, oil and vanilla in the crock-pot.
Add the oil and vanilla and stir thoroughly.
Cover with lid and cook on high for about 2 hours stirring once or twice while cooking.
Remove lid after cooking is finished, stir thoroughly and allow to cool completely before stirring in the dried fruit and then storing in an air-tight container. The Tupperware cereal container is perfect.
Enjoy!