Slpee1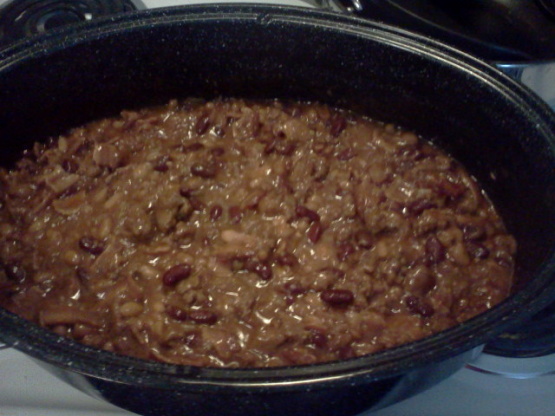 One of my Mom's most requested recipes. Great for large family gatherings, pot-lucks and cookouts! This is very hearty; not mushy at all. I've actually made this for a main dish since it's so filing. Enjoy!

Top Review by Slpee1
Everyone loves when we bring these to cookouts! If the picture comes through - that is the batch we just made. I omit the granular sugar but add all the bacon drippings (what a nice word for all that grease haha). The serving size mentioned doesn't quite match my servings. This size batch will do a side serving of 8-10 or 4-6 very hearty (using as the meal) servings.
Cook bacon.
Brown ground beef with the diced onion.
Place first 3 items in a large oven roaster (I use an Enamelware roaster).
To this, add the 3 cans of beans; do not drain beans.
Mix all other ingredients together in a medium bowl.
Pour over meat and beans and stir well.
Bake at 350 for 1 hour covered.
Remove lid or foil and bake for 20 more minutes.