Moldovan Tomato, Cucumber & Pepper Salad
Mercy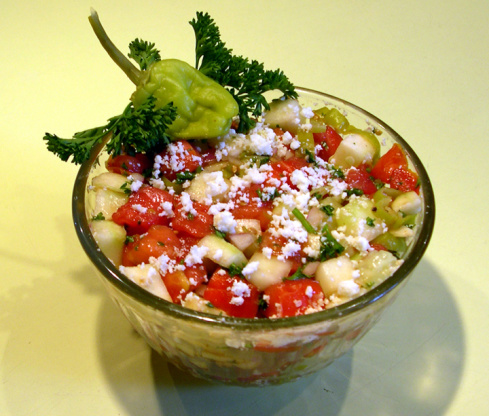 This recipe was given to our family by my parents' Moldovan exchange student. It is a wonderful way to get some veggies in your diet. Very colorful too, so it gives a nice presentation. Enjoy!
So simple, so good! didn't change a thing about the recipe except to add a few red capsicum peppers as suggested. Will be fixing this often. Thanks for such a refreshing little salad.
In a bowl, combine the tomatoes, peppers, onion& parsley.
Whisk oil, 3 T.
vinegar, salt& pepper.
Add to salad& toss.
Cover& refrigerate at least 1 hour.
Just before serving, taste& correct seasonings as desired.
Sprinkle with feta cheese (don't mix it in).