DH loves mushroom and also rice so when I saw this recipe on FoodNetwork.com from Paula's Home Cooking show I had to post it. Will be making this soon!
Directions
In a large skillet saute mushrooms and onion in butter until soft.
Stir in cooked rice, soy sauce, salt, pepper, and green onions. Cook until heated through and serve immediately.
Reviews
Most Helpful
This was excellent. It is easy to use too much soy, so I measured out a tablespoon. & was liberal with the mushroom allotment. I served this with #258852. it was a perfect combination.
I love mushrooms, and this was the perfect recipe for a mushroom lover! I made this exactly as posted, using cremini, oyster, and shitake mushrooms. I added some low-sodium soy sauce first, then added salt in tiny increments until it was seasoned to my liking. Very easy to make and very delicious. Made for Culinary Quest 2014.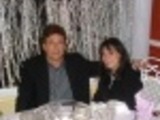 I've been making this for years and everyone in my family, even my mushroom-hating husband, loves it. I use a mix of button mushrooms and others (shitake, crimimi, oyster, etc.) Also, rather than bothering with regular soy sauce, I use Bragg's Aminos to make it healthier. I leave out the green onions as I find that they do not enhance the flavor.