Annacia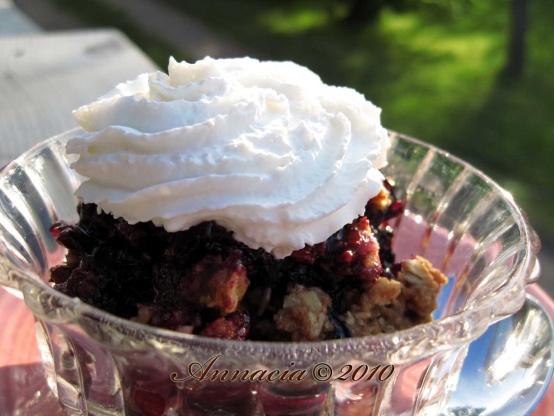 My husband is completely addicted to pies. Unfortunately, it's a little hard to have a whole pie hanging around the house with only two people to eat it. Here's a lighter alternative to a traditional fruit pie. Berries are the best choice for low-carb diets. On top of being low in sugar, they are rich in vitamins and antioxidants.

Mmmmm, summer berries! I used a mix of blackberries, raspberries and blueberries. I used a low fat fat margarine and 1 Tbsp of Splenda Brown Blend for the sugar. I also added 1/4 tsp of mace to the berry mix and used mace with the cinnamon in the topping which I made with whole wheat flour. This was a marvelous, guilt free, dessert. Thanks for sharing.
Preheat oven to 375 degrees.
Toss the berries with the cornstarch to evenly coat. Put the berry mixture in a large greased ramekin or a small greased baking dish (I used a 16 oz. ramekin).
In a small bowl, combine the butter, oats, brown sugar, flour, cinnamon and nutmeg. Mix lightly with a fork until the mixture is crumbly.
Top the berries with the crisp mixture. Sprinkle the top of the crisp with water.
Bake for 25 minutes or until the fruit is bubbling and the topping is slightly browned.
Serve with ice cream, frozen yogurt or whipped cream.