Microwave Potatoes With Herbs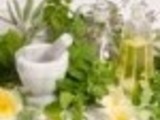 Another tasty way to use that microwave. You will love these potatoes.
Make and share this Microwave Potatoes With Herbs recipe from Food.com.
Directions
In casserole dish, layer potatoes, onions, salt, pepper and herbs.
Douse with chicken broth, dot with butter and sprinkle with paprika.
Cover and cook in microwave on HIGH for 20 minutes.
Tip:.
If you have fresh herbs, experiment with them.