Microwave Potatoes With Herbs
Prep 10 mins
Cook 20 mins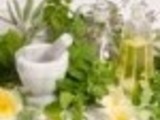 Another tasty way to use that microwave. You will love these potatoes.
Directions
In casserole dish, layer potatoes, onions, salt, pepper and herbs.
Douse with chicken broth, dot with butter and sprinkle with paprika.
Cover and cook in microwave on HIGH for 20 minutes.
Tip:.
If you have fresh herbs, experiment with them.
Most Helpful
Delicious potatoes and super easy to make. I halved the recipe and used a 1-quart covered casserole dish for 9 minutes and they were perfectly cooked. I do not care for rosemary, so substituted dried oregano.
Very good & easy. I added shredded cheddar cheese and popped it under the broiler for a few minutes. I used an "Italian seasoning" mix of herbs.

I liked the ease of making these. They only needed 15 min. in my microwave I will change the herbs a bit next time. Didn't much care for the combination, sorry. :)