J-Lynn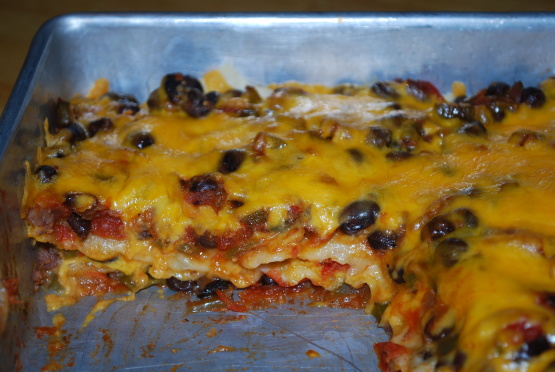 This is a great recipe that we love. I always get great reviews and requests for the recipe. I usually add ground beef to the vegetable mixture as we love meat!

This was good. I made it with whole grain tortillas and it came out great. I am having the leftovers for dinner tonight.
Sautee onions, garlic and green pepper in oil until tender.
Add tomatoes (drained), salsa and cumin, bring to a boil.
Simmer for two minutes.
Drain and rinse beans and add to others. If you are using, add ground beef here.
In a 9X13 pan, layer 1/3 of the bean mixture, then tortillas then 1/2 of the cheese.
Repeat with 1/3 of the beans then tortillas then the rest of the beans and put the remaining cheese on top.
Bake in a 350 degree oven for 35 minutes and serve with sour cream.
Option: Add ground cooked ground beef to the bean mixture for non-vegetarian version.