Bergy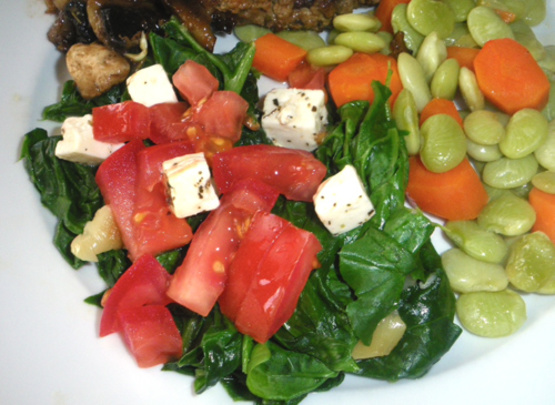 Top Review by Milla
this was pretty good. i prefer sauteing the spinach in oil and not water. good with goat cheese instead of feta.
Combine onions, garlic, dill and 1/4 cup water.
Stir-fry over medium heat until onions are soft and almost all liquid has evaporated.
Transfer mixture to bowl and stir in tomatoes.
Keep warm.
Add half the spinach to fry pan and 1 Tab water.
Stir-fry over medium heat until spinach is just beginning to wilt.
Add remaining spinach, stir-fry until all spinach is wilted (2 minutes) With slotted spoon, transfer spinach to a platter and spread out slightly; discard liquid from pan.
Top spinach with tomato mixture Sprinkle with Feta and capers.
Season to taste.