Mary's Italian Sausage Soup
loof751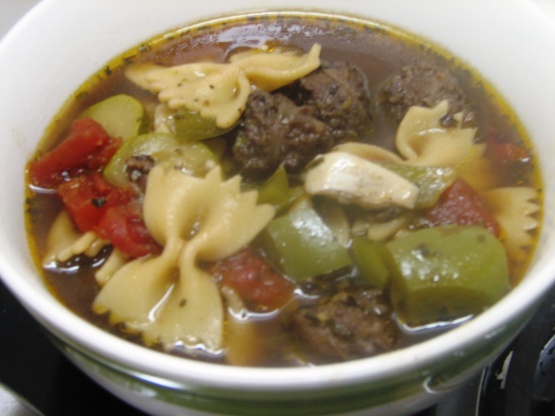 MMMM the only soup that was better then this was Grandma's Garbage Soup and there is no recipe for that because it came from what ever she had on hand.

This was a tasty, hearty soup that I will definitely make again! Freshly grated parmesan is a perfect finishing touch. I gave it four stars only because I found that there was not enough liquid in the soup--in following the directions exactly, it simmered away, creating more of a juicy pasta dish than a soup. I would recommend another can of beef broth and more red wine (which I used exclusively rather than water).
In dutch oven or large stock pot cook sausage over medium heat; drain off fat.
Add garlic and onions; cooking until the onions are clear and limp. Stir in tomatoes and break into pieces.
Add broth, wine or water and basil. Simmer uncovered about 30 minute
Add parsley, pepper, zucchini and pasta. Simmer covered about 25 minutes. Serve with parmesan cheese and frech bread.