diner524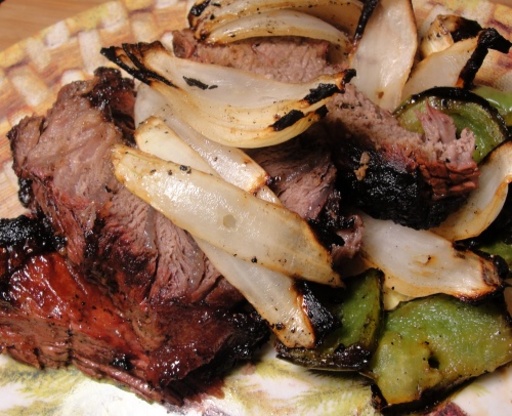 I love kabobs....I love the flavor the meat absorbs from the vegetables that surround it, and I love the flavor absorbed by the marinade. Best of all, I love that the veggies and meat are all cooked together....leaving nothing but rice and a salad or bread for me to have a complete meal! Prep time does not include the 2 hour marinating time!!
Wow what a wonderful and unique marinade!!! I think this is my new favorite. Even my DH who rarely comments on food, said it smelled wonderful while grilling. I made this exactly as written for the marinade and went the lazy route, just cooked the sirloin steak whole and sliced up afterwards. I chose green pepper and onions to use on a kabob next to the meat on the grill, which I also basted with some of the marinade when first put on the grill. I served this with Recipe #385071 and a salad for a fantastic meal. Made for a huge "Thank You" to my wonderful PAC Mom!!!
Combine the first 8 ingredients in a large shallow bowl or ziplock bag. Add the beef cubes; cover and marinate in the refrigerator for 2 hours, stirring or turning occasionally. Remove the beef cubes from the marinade, reserving the marinade.
Thread the beef cubes, tomatoes, onion, mushroom caps, green pepper, red pepper, and pineapple onto the skewers, repeating the repetition.
Grill, covered, over medium-hot coals for 10 to 12 minutes or to your desired level of doneness, turning and basting with the reserved marinade.