Mama Mia Artichoke and Tomato Bruschetta
Ms B.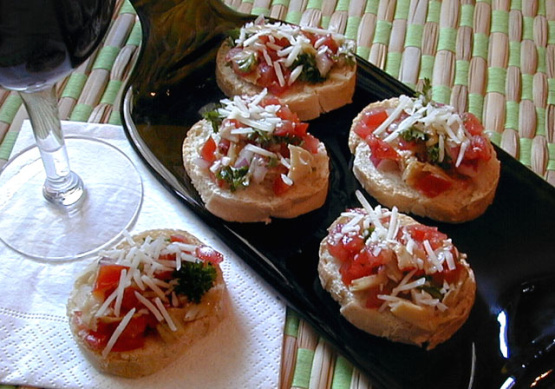 love artichokes !!! this is a very easy recipie anyone can make. everyone will think youre a genius !!!

Very tastey! My Dave didn't care for it too much... I made him two pieces and he politely finished one piece but wouldn't touch the second. lol I love them. It tastes a lot like my favorite snack: a triscuit spread with a bit of homemade mayo, topped with half of a homegrown cherry tomato. I used French bread sliced diagonally and used a parm/romano blend. I love bruschetta with spaghetti dinners and this one made it very special for me. Thank you!
heat oven to 350.
place sliced bread on ungreased baking sheet.
bake in oven 10 minutes or until slightly toasted.
in medium bowl combine artichokes tomatoes onion garlic.
in another small bowl put in vinegar and add oil in a small stream whisking while adding to make a vinaigrette.
then add vinaigrette to arichoke mixture mixing well.
add salt and pepper to taste.
top toasted bread with artichoke mixture to cover.
sprinkle with cheese.
top with some parsley.
serve.