Prep 15 mins
Cook 1 hr 30 mins

This decadent, rich lobster bisque requires some effort to make, but it is worth every minute! Serve this soup with a buttered crouton and a dollop of creme fraiche.
Directions
Bring large pot of water to boil.
Add lobsters head first and boil until cooked through, about 8 minutes.
Using tongs, transfer lobsters to large bowl.
Reserve 2 cups cooking liquid.
Cool lobsters.
Working over large bowl to catch juices, cut off lobster tails and claws.
Crack tail and claw shells and remove lobster meat.
Coarsely chop lobster meat; cover and chill.
Coarsely chop lobster shells and bodies; transfer to medium bowl.
Reserve juices from lobster in large bowl.
Heat olive oil in heavy large pot over high heat.
Add lobster shells and bodies and sauté until shells begin to brown, about 8 minutes.
Add onion and next 8 ingredients (celery through peppercorns).
Mix in brandy and Sherry.
Boil until almost all liquid has evaporated, about 4 minutes.
Add fish stock, reserved 2 cups lobster cooking liquid and lobster juices.
Simmer 1 hour.
Strain soup through sieve set over large saucepan, pressing firmly on solids.
Whisk tomato paste into soup.
Simmer until soup is reduced to 3 cups, about 15 minutes.
(Can be prepared 1 day ahead. Cover and refrigerate.) Add cream to soup and simmer 5 minutes.
Dissolve cornstarch in 1 tablespoon water.
Add to soup and boil until slightly thickened, about 2 minutes.
Mix lobster meat into soup and stir to heat through.
Ladle soup into bowls.
Most Helpful
Well I reviewed this recipe a week ago when I made it, but the review has never shown up. I did not want to leave this one un-reviewed as it is clearly a 10 star recipe!! I had never made my own Lobster Bisque before so I was a little bit nervous from the get go. But there was no reason, as this recipe was very clear and easy to follow. That aside, the Bisque is absolutely wonderful! I am so happy that I chose this recipe for Think Pink 2010, and so was everyone who enjoyed it. Great recipe, Thank you Tracy K!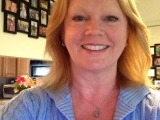 I have been using this recipe for about 4 years now and didn't realize that I had not yet rated it. I live in New England and my neighbor across the street is a lobsterman, so I have access to the freshest lobster you can get. This recipe makes the best Lobster Bisque that I have ever had and I am a bisque snob. I may tweak it here and there, like eating the lobsters and saving the bodies 4 - 6 in the freezer to make the bisque for as many people, adding a couple tablespoons of butter, etc. This is a very tasty and full flavored bisque. It takes time but is very well worth it.
My husband used this recipe and it was better than any lobster bisque we have had in any restaurant. We did not use Brandy, and we used Cream Sherry (used a little extra too!) My husband pureed some of the lobster meat and added it to step 22 for the final thickening. He also added a pad of butter. We highly recommend this recipe.