Lobster or Crab Bisque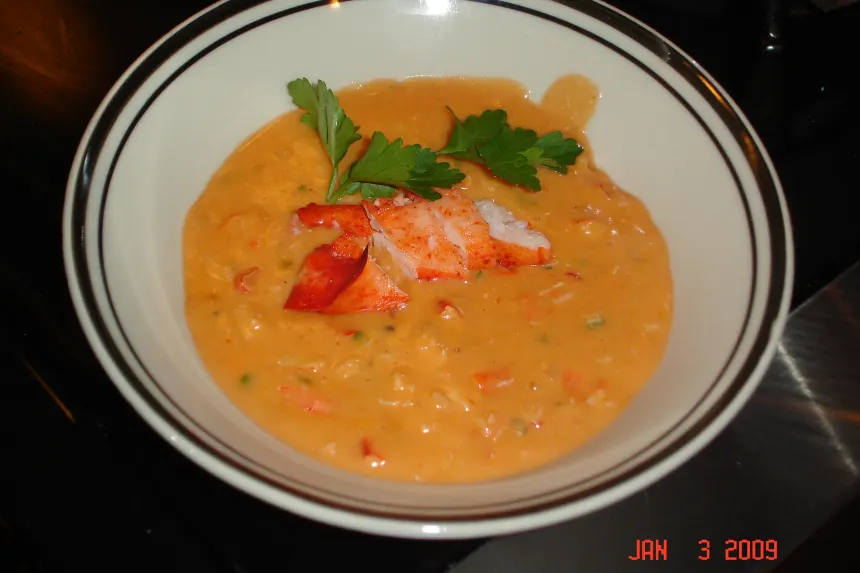 photo by Janni402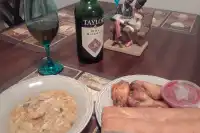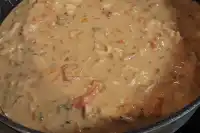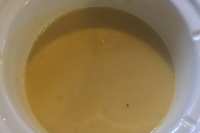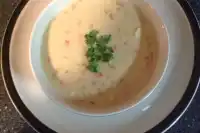 Ready In:

1hr 5mins

Ingredients:

13
directions
Saute onion and carrot in 2 tablespoons butter until soft. Set aside.
In 4 quart saucepan, melt 4 tablespoons butter and add flour, whisking constantly over medium heat until roux becomes light brown (about 5 minutes). DO NOT BURN!
Slowly add chicken broth, whisking constantly to ensure mixture stays smooth.
Add onions and carrots, cover, and simmer for 1/2 hour.
Add cream, sherry, lemon juice, Worcestershire sauce, cayenne pepper, salt, and lobster or crab and simmer an additional 5 to 10 minutes.
Garnish with fresh minced chives if desired.
Reviews
If you're looking for an amazing full flavored crab/lobster stew, look no further. Tasted great, but the flavor was pretty overwhelming. To bring it back to more of a soup-esque style, I suggest:<br/><br/>Reducing amount of sherry to 1/3 cup<br/>In addition to the cream, add a cup of regular milk (I used skim)<br/>Add a tablespoon of tomato paste (good call Chef #1105875) for that nice pink color<br/><br/>Definitely a show stopper. Nice.

 

I made this for dinner tonight. I followed the recipe except for the heavy cream as I only had 1/2 'n 1/2 and I used one pound of lump crabmeat. It was absolutely delicious! My husband raved on how good it was. I will definitely make it again. It was accompanied by cheese and herb biscuits that my husband made. YUM!

 

I tried this last month and it was exactly what I was looking for. I'm planning to make it again tonight. I did feel that it was missing celery to complete a mirepoix, so I added that with the onions and carrots. I used a gluten free flour because I have celiac disease. I prefer mochi sweet rice flour for making a white roux. I also used a pound of the lump crab meat. When I make it tonight, I will be cooking off the alcohol in the sherry (and I did use real sherry), which too me gave too much of an alcohol flavor adding it as suggested in the recipe. I'll probably add it before the chicken broth and cook it off for ten to twenty minutes.

 

Creamy and delicious, a nice ratio of elements. The next time I make this, (which will probably be soon!) I would change a few bits. I'd substitute the cayenne with black pepper. I'd throw in just a pinch of the cayenne. I'd add garlic, and a little tomato paste like one of the other reviewers suggested. (great idea!)<br/><br/>All in all, very nice. We had this with a sourdough loaf and it was so delicious, I was bummed to see my bowl empty so fast! <br/><br/>I used a 1/2 pound of dungeness crab. I omitted the sherry. Added an extra tbsp butter.

 
Tweaks
I really like a smooth Bisque, no chunks of anything except for the meat! And only 1/2 cup onion, personal preference. I finely dice my carrots and onion, sautée it in 2 tbsp extra butter. Then I purée it with a little chicken broth. I have used a food processor, but prefer an immersion blender. Blend until as smooth as possible, then strain through a fine mesh sieve. Follow the recipe as usual and strain once more when adding back to pot. *May need to thin puree with the chicken broth to move it through strainer* this gives the soup that orange color. Thicken to your preference, it should be like soup but coat the spoon when you dip. You can add more flour or use cornstarch to adjust thickness.

 

I made this soup over the weekend for a pot-luck and have to say that it is a great bisque. The changes and subtleties I used was a mixture of seafood stock and (Bay Harbor) lobster juice instead of chicken broth, a little less cream than the recipe called for, regular sherry, and finely blending the soup prior to adding the crab/lobster. An extra step was serving the soup in ramekins/oven proof bowls and placing puff pastry with egg wash over the bowls and placing them in an oven @400 until golden brown.

 

Awesome recipe. The only changes made: I used 20 oz. vegetable broth (Not chicken), 8 oz. clam juice, 1 tbsp. tomato paste while simmering, and then pureed it in a blender. I reduced the Sherry to 1/3 cup, omitted the cayenne pepper and salt, but added 1 cup of 1% milk along with the cup of cream to thin it just a bit. I put the crab in while heating through and also added 4 extra large shrimp (steamed and seasoned with Old Bay) per bowl. This serves six decent sized bowls or probably 10to 12 cups. "Huge hit" and restaurant quality. It's s a keeper.

 
RECIPE SUBMITTED BY
<p>I am a court reporter living in the suburbs of Houston, Texas. I love to cook for my friends and family, and I am usually The Chosen One for holiday dinners. Love the cooking, hate the clean-up!</p>
View Full Profile