banyutka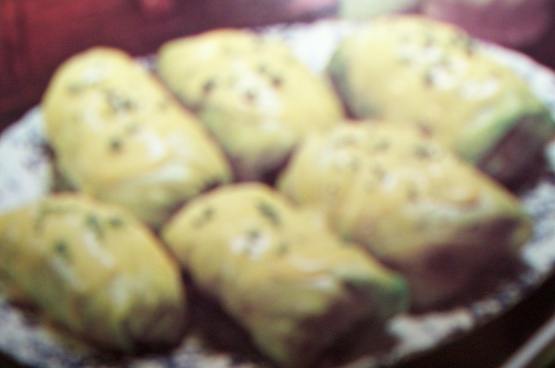 This is traditional recipe of my family

theses are sooo good!!!! i replaced garbonzo beans in place of beef......and for the gravy..I made my own ....1Tb. melted butter in sauce pan...stir in 1/8 c. flour till blended,over low heat... add a can of chix broth..bring to boil...then simmer till thickened!!! then the 2t. of lemon juice... it's awesome!!!!!
Cover cabbage leaves with boiling water. Cook and stir ground beef, onin and garlic over medium heat until beef is light brown; drain.
Stir rice, parsley, 1 1/2 teaspoon salt, the lemon pepper, cinnamon, oregano, 1 1/2 cups water and cheese into beef. Heat to boiling; reduce heat. Cover and simmer, stirring occasionally, until water is absorbed, about 15 minutes.
Heat oven to 350. Dry cabbage leaves; sprinkle with 1/4 teaspoon salt. Mound 1/2 cup filling at stem end of each cabbage leaf. Roll, folding in sides; fasten with wooden picks. Place in ungreased baking dish. Pour 1 cup water over cabbage rolls. Cover and bake 30 minutes; drain. Spoon hot Lemon Sauce over cabbage rolls; garnish with parsley.
LEMON SAUCE.
mix 1 package (about 1 ounce) chicken gravy mix, 3/4 cup water and 1 to 2 teaspoons lemon juice. Heat to boiling, stirring occasionally.