Lahanodolmathes (Greek Cabbage Rolls)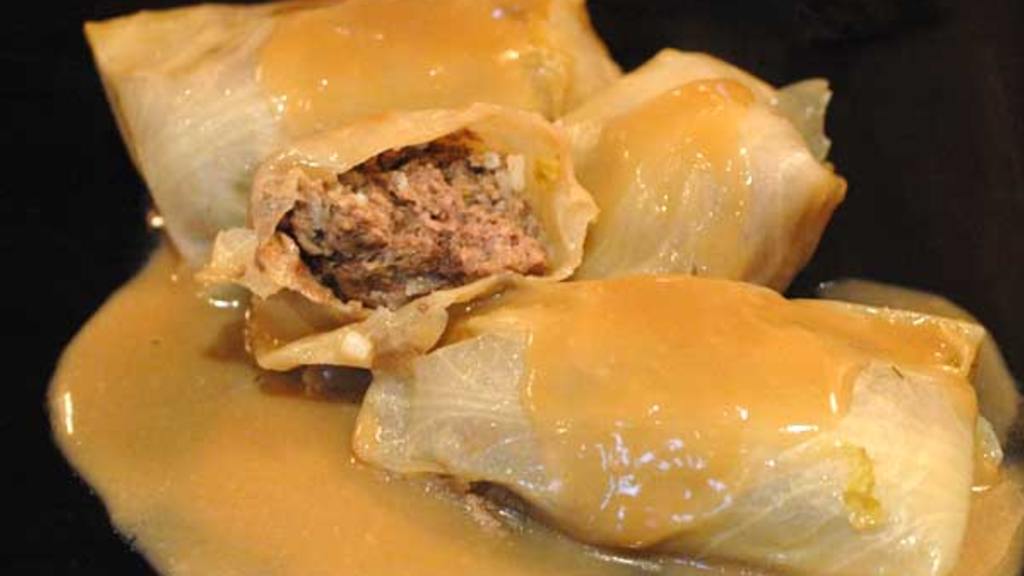 Ready In:

2hrs 20mins

Serves:

Units:
Nutrition Information
directions
Combine the ground meats with the 3 tblsps olive oil, rice, onion, parlsey, celery, carrot, tomato paste, garlic and spearmint. Season with salt and pepper. Knead well to combine everything.
Place cabbage in a large pot of boiling water and cover pot.
When the outer leaves are blanched and softened, remove leaf by leaf, keeping the leaves whole, and place flat on a towel on work surface.
Continue in this way, removing leaves as they become blanched and soft.
Take some leaves that have not removed in one piece (the worse looking ones, or chop up some cabbage) and put in the bottom of a large pot.
Take a cabbage leaf and place 2 tblsps of meat filling in the center.
Fold both sides in and start rolling up, away from you, to make a cylinder, like an egg-roll or cigar. Do this rather loosely to allow for expansion of the meat and rice as it cooks. Lay these neatly in your pot, packing them in next to one another so they hold their shape.
Continue rolling cabbage leaves until all your filling has been used up and/or you run out of leaves.
Put more torn cabbage leaves or chopped up cabbage over the cabbage rolls.
Pour over olive oil, add stock cubes and add enough hot water to just cover the cabbage rolls by ½".
Weight the cabbage rolls with a plate and bring to the boil (the plate keeps the rolls from moving around too much as they cook, so that they don't unroll).
Cook for just over an hour.
Remove from heat.
Carefully remove cabbage rolls to serving dish and make your sauce using the liquid remaining in pot.
Beat the eggs with the corn flour and lemon juice.
Very carefully and very slowly and whisking all the time, start to dribble the hot stock into the egg mixture. Keep doing this until you've added nearly all the stock. This tempers your eggs so that your sauce won't curdle.
Pour the sauce back into the pot, and cook until the sauce just starts to simmer.
Remove from heat and serve with the cabbage rolls coated generously with this sauce.
Another recipe that goes so well eaten with nibbles of feta cheese and crusty bread (as all Greek recipes seem to).
Submit a Recipe Correction
Join The Conversation
I had a similar recipe to this one which required the meat to be cooked prior to making the rolls. I did not want to do the extra step, so tried this recipe with much success. My family loves garlic, so I had to add 1 clove to the meat mixture (we eat so much garlic that we could not even tell it was added). I was forced to add 1/2 cup of scallions because the last onion I had only made 1 cup after being chopped. The egg-lemon sauce was good, but my stock must have not reduced as much as Evelyn's so I had to add more than 2 tbsp of cornflour to thicken the sauce. This recipe was tasty. Thank you for sharing.

Made this recipe as part of Alphabet Tag. When I re-read the directions for the sauce, I was a bit sceptical due to lemon in sauce, but I made it just the same. It was okay, but I'm glad I didn't cover all the cabbage rolls with the sauce. I do prefer them without the sauce. I'm going to try the sauce on some other recipe later. Froze both the rolls and the sauce separately.

If it were possible to be jailed for abuse of cabbage rolls I would be found guilty. I'd never made them before and I tortured them by leaving them to cook too long (I forgot they were on the stove!), poking them numerous times while they were in the pot, sticking them in a freezer for 3 months and then reheating them without the slightest clue how to do it. Having done all that, the cabbage rolls were delicious! The only little quirks I ran into was the amount of cabbage given -- I needed twice as much but maybe this was down to inexperience -- and the fact I found the sauce a touch too lemony. I also couldn't taste the dill but maybe this is because I used dried and not fresh. To reheat from frozen, I put the frozen cabbage rolls in a baking dish and covered with foil and baked at about 200 C for about an hour. I then drizzled the sauce over and served with rice and a salad.