Kumquat's Spicy Oriental Stir-Fry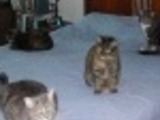 My own invention of several years ago (or perhaps a combination of other Asian-type recipes I had seen before), scrupulously tested and vetted. I think the sauce is fantastic; it suits my tastes as it is not as sweet as some chinese restaurant sauces and is probably much more healthful, yet it's still spicy and intensely flavorful. If you have a committed carnivore for a spouse, or if you are one, you can substitute real meat for the wheat gluten. I've made it with tofu and soy-based meat substitutes as well.
Directions
Assemble vegetables. Meanwhile, bring broth and water to boil, add rice and cover. Reduce heat to low and simmer 20 minutes (or follow instructions on box, omitting salt and butter).
Whisk together sauce ingredients in a small bowl.
In medium wok or large skillet, heat vegetable and sesame oils under medium-high setting. Add carrots and stir-fry 1-2 minutes. Add snow peas and stir-fry 1-2 minutes. Add pepper and onion (at the same time) and stir-fry 1-2 minutes. Add meat substitute or meat and stir-fry 1-2 minutes.
Pour sauce over vegetable mixture. Heat to boiling while stirring, and simmer under reduced heat until until vegetables are crisp-tender (about 1-2 minutes or more).
Spoon over hot rice, sprinkle with scallions and serve.
Reviews
Most Helpful
Simple to make, I made Perfect Basic Brown Rice for the rice. I ususally make stir fry with more oil, this time I used some of the veggie stock to steam them in the wok and then added a little oil when cooking the tofu. I wasn't a huge fan of the hoisin, but the boyfriend loved it. Made for a light late lunch. Thank you very much for posting. Made for ZWT 6.

DH and I had this stir fry for lunch today. It is very nice! We used ground beef in place of the tofu and I omitted the sugar snap peas because I didnt have any on hand. I also used an orange bell pepper in place of red because that is also what I had on hand. Otherwise, I followed all ingredients and directions as posted. I thought the rice simmering in vegetable broth made for a nice flavored jasmine rice that was perfect in moistness (not too dry). I might try that trick with other dishes in the future. DH and I might like to try beef or chicken broth for our sauce next time, however, because it might make it a little thicker and give it that meatier flavor we carnivores were looking for. Thanks for posting this dish!

What a great stirfry & very easy to make. I didn't have any cooked chicken, so stirfried some after marinating with soy sauce, chinese rice wine & cornstarch. This complimented the sauce beautifully. I used minced garlic & sambal oelek instead of chili sauce with garlic & also left out the vegetable broth, as I didn't need any extra sauce. Added celery and zucchini. Thanks Kumquat for sharing this keeper. Made for ZWT4