Kheema With Potatoes and Peas
Satyne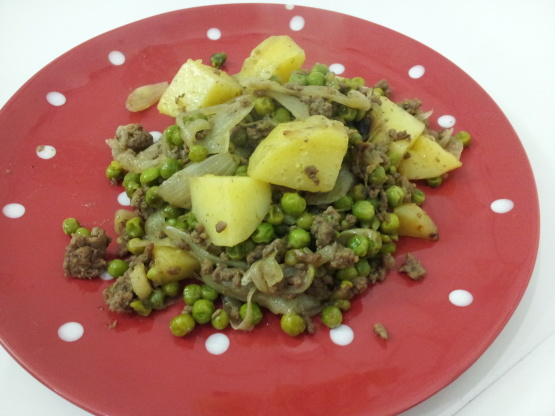 Taken from Margeret Fulton's book of Indian Cooking. Cooking time is estimated.
We loved this dish, it was not something I had tried before but even my picky daughter enjoyed it. I served it with home made Chapati and we had a feast for dinner. Very easy to make and a great blend of flavours. Thanks for posting! Made for ZWT 8 :)
Heat the oil in a lidded fying pan, add the onions and cook until sof.
Add the spices and fry for 5 minutes over low heat; add 1 tablespoon water if the mixture starts to burn.
Stir in the meaned beef and cook over high heat until very well browned.
Lower the heat and add the potatos and salt to taste. Cover and cook gently for 5 minutes, then add the peas.
Continue cooking until the potatoes and peas are tender.