JustJanS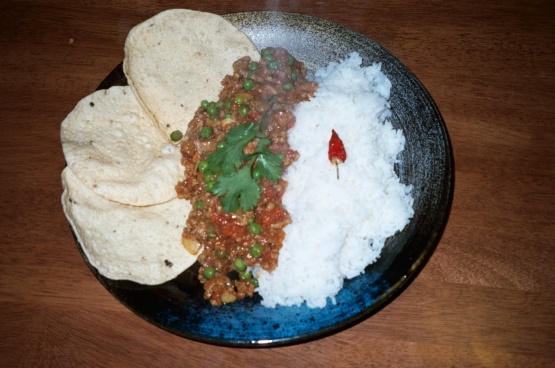 (Ground Meat Stir-Fried in Herbs and Spices, Nepali style)

DH and I enjoyed this keema quite a bit. However, next time we will triple the spices, as we thought it needed a bit more flavor. Also, DH suggested that next time we chop the garlic for more even distribution. This was easy to make, presented nicely, and tasted good. We served over basamati rice. Thanks! UPDATE 11/06/09: We tripled the spices and liked the dish much more. We are going to try quadrupling next time and it might just be perfect, then, for us.
In a non-stick pan, heat four tablespoons of oil.
Add fenugreek seeds and red chilies and fry till dark.
Add turmeric, garlic, ginger, cumin and chili powder; fry for another 30 sec.
Add chopped onions and stir fry until light brown.
Put chopped tomatoes and cook for about five minutes.
Add ground meat to the pan; stir to break up into lumps.
Salt and pepper the meat mixture.
Set heat to medium and continue to stir fry the meat until cooked.
It may require some broth or water to moisten, if it starts to burn.
Add green peas and spring onion; stir for another two minutes.
Adjust seasoning with salt and pepper; garnish with fresh cilantro.
Drain excess oil, if necessary.
Serve with stir-fried vegetables and rice, or roti (flat bread).