11 Secret Herbs and Spices( Kfc Copycat)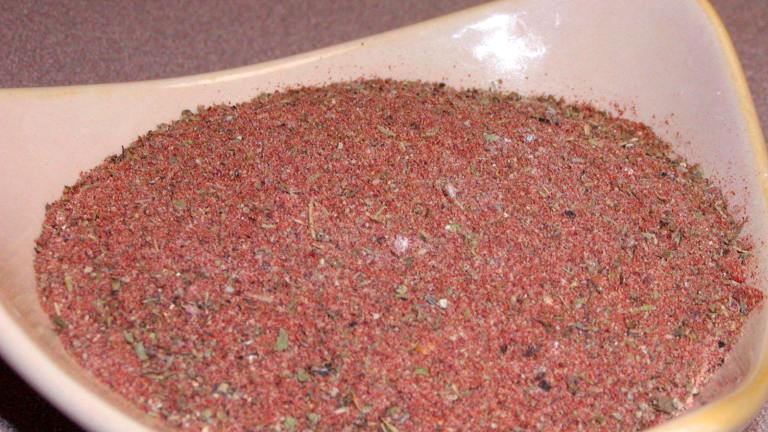 This came from CDKitchen and makes a nice gift!
Ready In:

10mins

Yields:

Units:
Nutrition Information
directions
Combine all ingredients as listed in a small jar with a tight fitting lid (baby food jars work good). Shake mixture to combine. Stores for months. Keep out of direct sunlight, heat and humidity.
(makes about 1/3 cup)

To Use:

Mix together 4 teaspoons mixture, 1 cup flour, 2 Tbls. packed light brown sugar and 1 teaspoons salt. Place in a doubled plastic food bag and add chicken to coat. Fry, drain on paper towels, serve!
Submit a Recipe Correction
RECIPE MADE WITH LOVE BY
"This came from CDKitchen and makes a nice gift!"
Join The Conversation
Not even close!! Onion, garlic and celery ARE NOT part of the original recipe. USDA requires those ingredients along with mustard to be published ingredients, which KFC has never done. So any recipe containing those ingredients is wrong! The only published ingredients are salt, black pepper, white pepper, msg, sage and coriander. Plus the chicken must be brined with salt and msg. The flour must include powdered egg whites, powdered milk and baking powder...

I'm going to give some insight from when I managed a corporate owned restaurant back in the 80's. There is no brown sugar in KFC's Original Recipe, or any other sugar for that matter. The seasoning comes in a plain sealed package pre-mixed with "Seasoning" labeled on it. Separately, a box of salt is provided, labeled "Salt". There is also the white flour of course. To assists in the coating and allow the breading to stick, the chicken is put in a mixture of water, egg and milk (they have a dry package for the egg and milk) is used to prep the chicken before breading. The chicken is shaken around in a basket to get the mixture to evenly coat and remove excess liquid. There are no ingredients listed on any of the packages. So if someone in a restaurant says they know the ingredients, I would not believe them at all. This is indeed a highly guarded secret. The only way it would come out is if someone high up in corporate leaked it. Even access at that level is near impossible. However, salt and pepper are two of the main ingredients for the herbs and spices. The list that is provided by the guy below with 10 ingredients should be pretty good for a nice flavor. I would recommend 5 lbs of flour with that mix. If you want an 11th to say you have 11, add white pepper. The magic: One key element that I have yet to see anyone correctly say is how to cook the chicken, which is critical to the KFC flavor. The secret here is to use a pressure cooker as your deep fryer. The temperature is 350 F, for 15 minutes in pure vegetable shortening (Crisco works well). This will give you that soft breading texture. Note: Years ago KFC used to use this large automatic pressure cooker called a Crescore. It would cook 20 head of chicken at a time. The way this cooker worked with circulating and controlling/filtering the oil gave an amazing flavor. After, in the 90's they switched to a Henry Penny deep fryer pressure cooker (cooks 5 head of chicken at a time) which never had the same flavor. It was good, but definitely not as "great" as the Crescore cooker. I tell you this because the cooker does indeed affect the flavor.