Jeweled Creamy Rice Pudding
2Bleu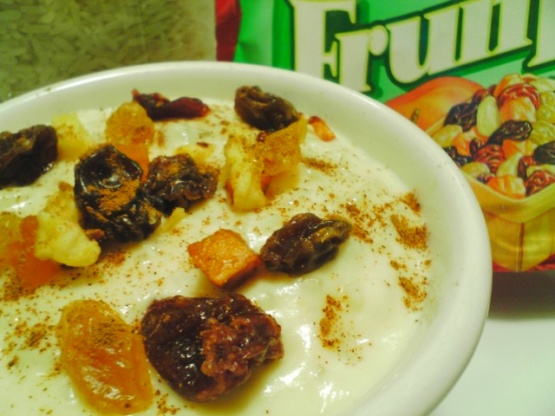 Creamy pudding with tender, sweet dried fruit and just a hint of nutmeg. This is dh's favorite.

Oops. I didn't acclimate the eggs to the heat properly and they curdled. That said, this was still very yummy. Fresh blueberries were added at the end. Thank you for posting!
Place water and rice in medium saucepan; bring to a boil.
Reduce heat to low; cover.
Cook for 12 to 15 minutes or until liquid is absorbed.
Stir in evaporated milk, fruit, sugar, vanilla extract, nutmeg and salt; bring to a boil.
Stir a portion of rice mixture into the eggs.
Add egg mixture to rice mixture; mix well with wire whisk.
Bring to a boil.
Cook, stirring constantly, for 2 minutes. Serve warm or chilled.