Jeweled Creamy Rice Pudding

Creamy pudding with tender, sweet dried fruit and just a hint of nutmeg. This is dh's favorite.
Directions
Place water and rice in medium saucepan; bring to a boil.
Reduce heat to low; cover.
Cook for 12 to 15 minutes or until liquid is absorbed.
Stir in evaporated milk, fruit, sugar, vanilla extract, nutmeg and salt; bring to a boil.
Stir a portion of rice mixture into the eggs.
Add egg mixture to rice mixture; mix well with wire whisk.
Bring to a boil.
Cook, stirring constantly, for 2 minutes. Serve warm or chilled.
Most Helpful
Oops. I didn't acclimate the eggs to the heat properly and they curdled. That said, this was still very yummy. Fresh blueberries were added at the end. Thank you for posting!

Well, I thought I had previously found a great rice pudding recipe, but this one beats all! No baking, one pot, a variation from cinnamon with nutmeg, not a huge amount of milk, no adding more sugar at the table, no stirring, restiring.... Shall I go on? YES! The creaminess this pudding has is wonderful. I was out of evaporated milk so I replaced it with heavy cream, but cream is a good substitute for evaporated milk, so it all boils down to "It's just one darn good recipe!", I will definitely be making this again.:)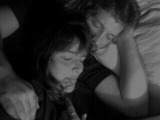 Thank you, Annacia, for this very, very nice recipe! Here's another thing I got away from making, & here it is now, all dressed up & tasting even better than what I used to make! I increased the amount of dried fruit to 3/4 cup & used 1/4 cup of each of the fruits suggested [& next time I'll try some others!]. It makes for a very attractive dessert! Thanks for posting this!