vrvrvr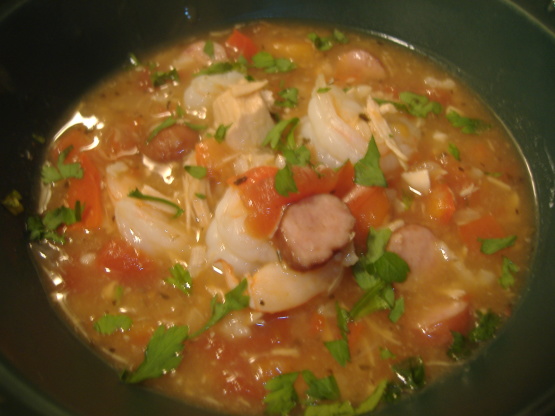 Found this in a magazine a couple of years ago and it is something I make often,I leave out and add things depending on what I have on hand.Have fun and hope you enjoy!

Top Review by KeyWee
Crawfish Pie - this is excellent!! I didn't change a thing except to use skinless chicken thighs, and added a green bell pepper along with the red one. Thick & delicious with great jambalaya flavors! I made this in my 6-quart crockpot, slow simmered all day. My neighbors were forming a line at my back door!! Thanks, CP! - 5 stars!!!
In a saucepan,bring broth,tomatoes,garlic,herbs and cayenne to a boil.
In a 5-or6-qt slow-cooker, mix onion,celery,rice and sausage.
Add broth.
Tuck in drumsticks,meaty side down,to cover.
Scatter bell peppers on top.
Cover;cook on low-heat setting 7-8 hrs,or on high for2 1/2-3 hrs,until rice has softened and chicken is tender.
Uncover then turn to high.
Add shrimp and okra;cover.
Simmer 5 minutes,until shrimp are cooked and okra is crisp tender.
Remove drumsticks;remove bones,if desired.
Ladle in soup bowls and add chicken to each bowl.
MY NOTES:You may add or subtract to your liking.
I have used chicken thighs and chicken breasts and I have also used smoked sausage.
Use more or less seasonings or add different ones.
I also make this in my dutch oven on the stove top.
If you do it this way cook everything but the shrimp and okra for about an hour&10 min,then add shrimp and okra and simmer for about 5 more minutes.
Have fun!