Chinese Cinnamon Beef Noodle Soup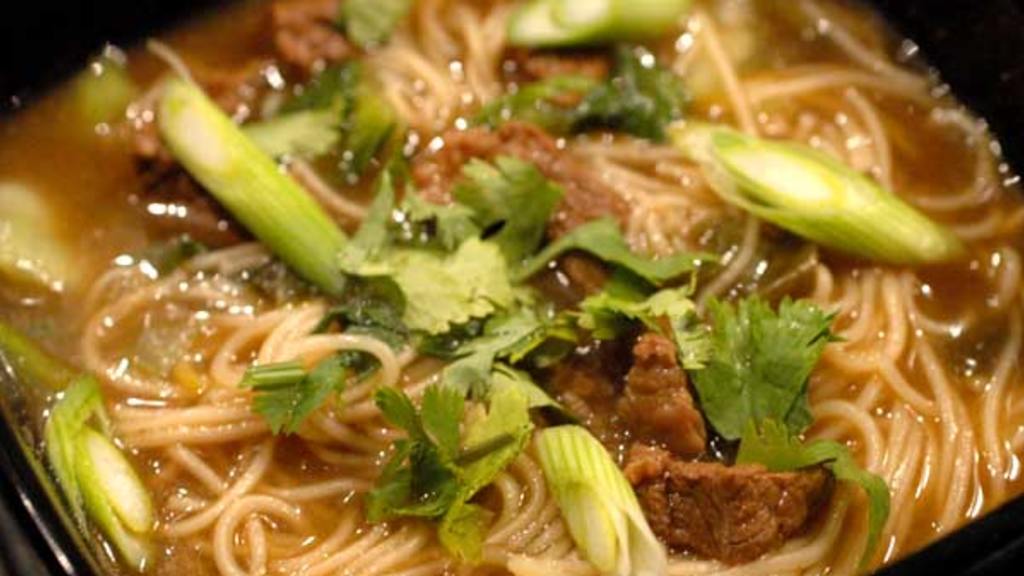 Ready In:

1hr 50mins

Ingredients:

15
directions
Cut beef chuck into 3/4 in thick chunks if you did not purchase precut stewing beef.
Heat the oil in a heavy soup pot or Dutch oven over medium heat. When very hot, add the cinnamon, scallions, garlic, ginger, anise seeds, and chile paste; cook, stirring, for 1 minute.
Add the water, broth, soy sauce, and vinegar; bring to boil over high heat.
Add the meat and bring to vigorous simmer. Lower the heat to maintain a gentle simmer and cook, partially covered, until the meat is very tender, about 1 1/2 hours, checking to be sure that the soup doesn''t boil or stop simmering.
Shortly before the soup is done, bring a large pot of water to boil. Cook the noodles according to package directions until just tender. Drain and rinse under cold water.
When the meat is tender, remove the cinnamon sticks. Add the bok choy to the soup and simmer until the stalks are crisp-tender and the greens are very tender, 5 to 10 minutes. Stir in the noodles and let them warm through. Serve immediately, garnished with the cilantro leaves.
I'm guessing on the serving size as I no longer follow the recipe. I use the ingredient list as a guide.
Join The Conversation
I had really high hopes for this recipe - it made my kitchen smell wonderful while cooking. I cooked it exactly as written. The flavor just didn't deliver though. My DH thought it was good, and me just ok. I was really disappointed it didn't have the spark of flavors that it smelled like while cooking, Hoping it's better re-heated tomorrow.

Wonderful. I also had to sub the anise with chinese 5 spice. Also had to use sriracha insted of chili paste, but it turned out awesome anyway. My meat wasn't as tender as I would of liked & I used pre-cut stewing meat so the advice about cutting your own meat is spot on. I have very tender meat when using pre-cut meat for my stew so don't know what makes that difference. Maybe I will simmer this soup a little longer next time. Any how, a wonderful asian soup you can make at home! & the house smelled amazing while this soup simmered! Thank you for posting.