Italian Style Bacon & Eggs
loof751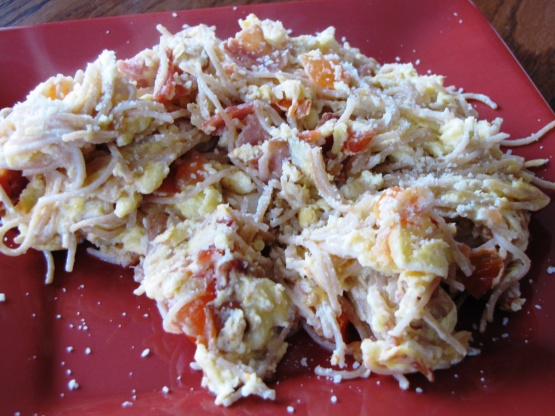 DH & I both love breakfast more than any other meal. This breakfast or brunch recipe by Anna Martini from her "Pasta & Pizza Cookbook" is so good & unlike any other I have seen. I admit to having expanded it a bit, so I hope you will try it & enjoy the outcome. :-)

What a neat idea! I have never tried a breakfast dish with pasta like this before. We enjoyed it. Lots of flavor and filling. Thanks for sharing! Culinary Quest '14
1⁄4 lb pancetta (or sub bacon cut in sml strips ... approx 1 cup)

1

tablespoon olive oil (or butter)
1⁄2 lb spaghetti

4

eggs

2

tablespoons light cream
2⁄3 cup parmesan cheese (freshly grated & divided per prep directions)

1

large tomatoes (seeded & diced)
1⁄2 teaspoon italian seasoning (I use McCormick Classic Herbs)
salt (to taste)
Put the olive oil (or butter) in a fairly lrg skillet. Add the pancetta (or bacon) & fry it lightly over med-heat till the fat has melted. Remove from heat & set aside.
Cook spaghetti in boiling salted water.
Meanwhile, beat the eggs in a bowl w/a whisk. Whisk in the cream, half of the Parmesan cheese & the Italian herb blend. Add the diced tomato & stir to combine.
When the spaghetti is still fairly firm to the bite, drain & transfer it to the warm skillet w/the bacon. Place over med-heat & stir so it will absorb the flavor of the pancetta (or bacon).
Pour the egg mixture over the spaghetti & bacon in the skillet & cook to desired doneness, but do not overcook to dryness.
Serve immediately w/the remaining Parmesan cheese on the side to be added individually as desired.