Intensely Deep Dark Chocolate Brownies
loof751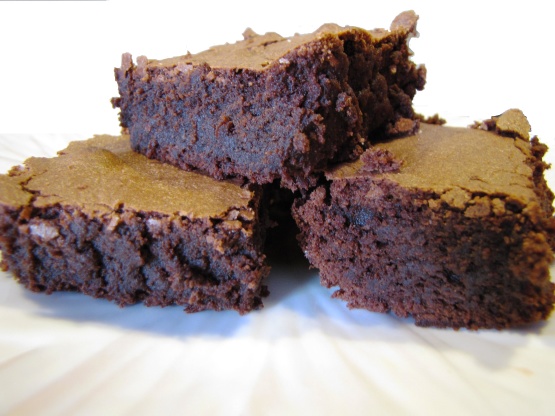 For Chocolate Lovers only. Moist, rich and decadent. Add the walnut only if you desire. So easy to prepare! From Gourmet Magazine.
OH, baby. Made these exactly as the recipe stated and they are fabulous. Fudgy and intensely chocolate, and nice and crunchy outside. FYI to those who didn't make the recipe as stated, why get on here and talk about it?
Preheat oven to 350 degrees F with rack in center position.
Butter and flour 13" x 9" pan.
In 3 qt heavy saucepan, melt butter and chocolate over low heat, stirring until smooth.
Remove from heat and allow to come to room temperature.
Whisk in sugar and vanilla into chocolate/butter combination.
Whisk in eggs, one at a time until thoroughly combined. Set aside.
In separate bowl combine Dutch process chocolate powder, flour and salt.
Combine flour mixture with chocolate/butter and whisk thoroughly.
Add chopped walnuts if using.
Spread brownie batter in pan and bake for 25-35 minutes.
Cool completely.