Hot Spinach Dip With Bacon
2Bleu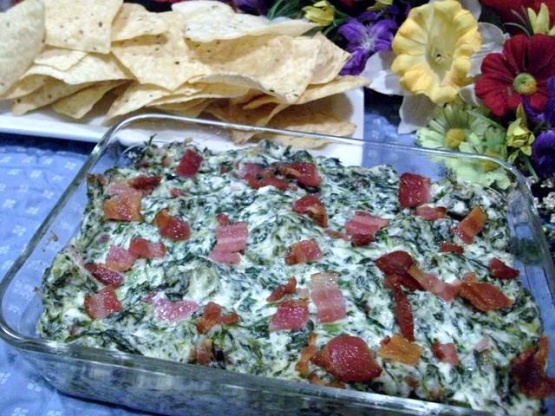 Excellent Dip! I normally serve it with Sociable crackers. This is always requested at every party...even my teenaged daughter asks to take it to parties. Wonderful football game food!

This hot spinach dip is absolutely wonderful -- served it on Christmas Eve for the family. I took the liberty of adding some chopped artichoke hearts to this dish and it was wonderful. Loved the addition of the bacon - it really makes this dish. Everyone loved this dip and I will be making it again soon.
Drain spinach.
Combine spinach and remaining ingredients in a large bowl; stir well.
Spoon into a greased shallow 1 quart baking dish.
Bake uncovered, at 350 degrees for 20 to 25 minutes or until thoroughly heated.
Serve with crackers.