karen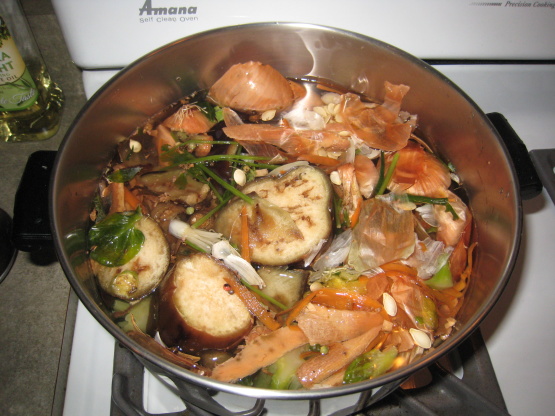 Saving all the odds and ends in the freezer while doing your daily cooking will give you an endless supply of stocks to cook with. You will not waste even those parts of the vegetables or meat that you paid for (usually by the pound), and will never again need to buy canned stocks. This will save you money and allows you to control the contents of your stocks. All the vegetables I have listed in the ingredients list are just ideas of things to save in your bag. You do not need each and every one of them to make a stock. Everything is optional. When you peel carrots or anything else, wash them first. It is rather difficult to wash peelings. I do not recommend strong flavored herbs like cilantro or vegetables that could color your stock strangely like beets. Note: In order for the recipe to post, I had to include measurements, but you don't need measurements. Just use what you have saved in your bags using more or less of whatever is there.

I have been doing my veggie stock this way for a few months & figured I'd give a review! I LOVE to do this for a few reasons. One, it's cheap. Actually, it's free since all you use for this stock you usually just toss. Two, it's more natural, nutritional (I imagine), pure, and flavorful. There are no preservatives or things you can't pronounce in there. Super low sodium, too! Three, you can really modify the stock. Have an over abundance of tomatoes in your garden? Make a stock - it'd go great to cook with rice, etc. Since I like a stronger onion flavor I just add an extra "layer" or two off my onions when I peel them. Four, you can use veggies and scraps that were previously WASTED. Got some veggies in the fridge that are about to go bad? Toss them in the stock freezer bag! I NEVER EVER waste veggies now simply b/c I didn't use them in time. I put all my scraps in this, including ones I wouldn't necessarily eat. For example, I toss the onion skins but still add that tough outer layer of the onion to this; normall it'd just get trashed/wasted. I add the middles of peppers when I gut them - seeds and all. I've even tossed a few fruit items in there - don't be scared to try it (just don't get carried away)!! I usually cook it all in the crockpot overnight, line my strainer with paper towels, and drain. This prevents the seeds and parts from falling through. Depending on what I have in that batch, sometimes I don't use paper towels but rather strain then blend. I've never actually seen this recipe posted but it's SUCH an easy method that one should really try it rather than buying stock. Plus, you always have so much on hand you'll find yourself adding your stock to things you normally wouldn't. Adds flavor and nutrients! Thanks for sharing!!
1 1⁄2 gallons water

Spice ideas

1

large bay leaf

2

tablespoons peppercorns

2

teaspoons oregano

2

teaspoons thyme

2

teaspoons basil

2

teaspoons dill

Vegetable ideas

1⁄2 cup onion, skins (gives your stock a nice dark color)
1⁄2 cup carrot, peels, ends and pieces
1⁄2 cup broccoli stem, and pieces
1⁄2 cup spinach leaves

1

bunch fresh parsley

1

cup celery, ends, leaves and pieces
1⁄2 cup green beans, ends and pieces

1

tomatoes, pieces
1⁄2 cup mushroom, stems and pieces

3 -4

garlic cloves

1

shallot

1

leek

1

turnip

1

cup chicken piece (optional)

1

cup beef, pieces (optional)
Save a gallon freezer bag in your freezer.
Wash all stock ingredients well before peeling.
As you use your vegetables, chicken, or beef, save the peels, ends, leaves, skins, wing tips etc and place them in separate bags in your freezer. Keep a vegetable bag, a chicken bag and a beef bag. Your vegetable bag will fill the fastest and beef the slowest.
Once you have a full bag of mixed vegetables, place them all in a large stockpot or a crock pot.
Pour the water over your ingredients and add the bay leaf, peppercorns and any other herb or spice that you desire.
If you don't have much garlic or parsley in your freezer bag, then add more if desired. If you have too much, it is not necessary to use it all. Just use what you desire for the flavor you wish to achieve.
If making meat stock, add meat pieces and bones to the vegetables.
If using a stockpot, bring to boil; reduce heat and simmer for 2 hours until vegetables are very soft.
If using a crock pot, cover and cook on low overnight or for 6 to 8 hours.
Strain stock through a colander to remove vegetables and herbs.
Strain stock again through doubled layers of cheesecloth to remove all other small particles if desired.
Stock can be reduced even further if desired or place in quart freezer bags, date and note the contents.
Stock can be kept up to 6 months in your freezer.
For Vegetarian and Vegan omit the beef and chicken.