Basic Brown Stock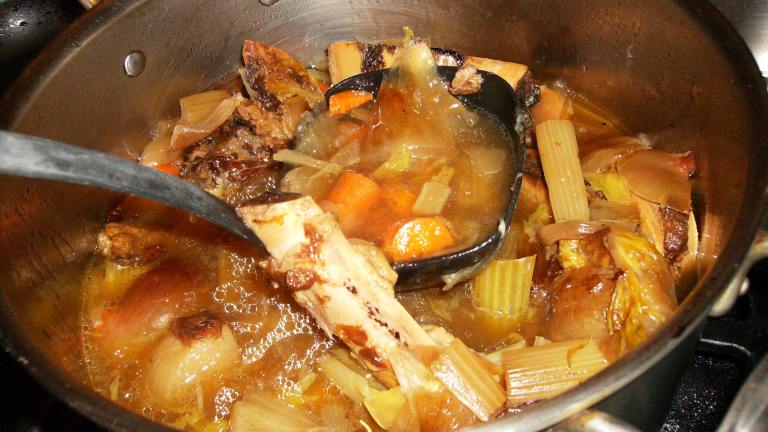 A basic brown stock for soups or where ever brown stock is called for. Can't be beat for flavor.
Ready In:

14hrs 15mins

Yields:

Units:
directions
Roast the bones in a 400 degree F oven for about 2 hours, watch so they don't burn, just want them toasty brown not blackened.
Put bones in soup pot.
Add 1 quart of water for each pound of bones.
For 5 pounds add 1 bunch of carrots, 1 head celery, and 3 yellow onions.
Bring the stock to a heavy simmer, uncovered, and cook for 12 hours.
Add water if needed.
DO NOT ADD SALT!
Strain the stock and store in fridge.
A layer of fat will form on top.
Leave this in place to help seal the stock from air until ready to use.
This stock will be gelatinous.
If not using all in several days, I place some in vaccum bags and seal for freezing.
Submit a Recipe Correction
RECIPE MADE WITH LOVE BY
"A basic brown stock for soups or where ever brown stock is called for. Can't be beat for flavor."
This is the way to make stock. So many "stock" recipes I see are really elaborately seasoned soups. People forget that stock is an ingredient, not a dish in itself. This is so much better than the highly salted commercial stocks! Since it is not seasoned, it will add to your recipes without any flavor conflict. However, I recommend that you not use the overnight oven method for two reasons: one, it's not safe; two, the stock won't reduce properly and you won't get the concentrated flavor you want. Be sure not to stir or skim, or the stock will be cloudy. Great recipe, thanks for posting!

This is the same recipe as in my 1984 edition of Jeff Smith's first book, The Frugal Gourmet. Jeff recommends not adding green onions and cabbage to the soup pot as they will sour the stock. He also suggests that alternatively to watching the pot all day you can bring the soup to a heavy simmer, cover the pot, and place it in a 225°F oven overnight and still get great results. Thanks, Chef Shadows, for adding one of my go-to recipes!