gailanng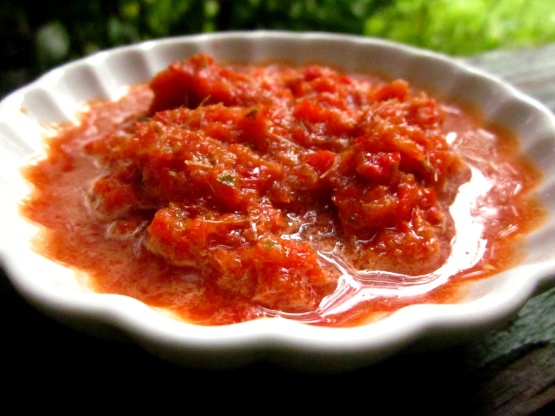 A staple in Malaysian and Thai cooking. Oelek means grinding so sambal oelek means ground chilli sambal! This can also be frozen.

3 for having a go!<br/>yes Sambal Oelek is from Indonesia, . Sambal Oelek is merely a brand name!<br/>, However sambals' are endemic throughout the Malaysian Peninsula and Sri Lanka Thailand ad infinitum and vary enormously<br/> Yes, way too much sugar, I add just a pinch of dark brown sugar, no palm sugar after I saw first hand what is happening to rainforest, esp. in Malaysia, to make way for palm sugar plantations.<br/>I like the lime/ginger touch.<br/>I simmer mine with lemon grass and then remove it before storage.<br/>And I use a mix of chillies, whatever is available or in season.<br/>As for the mortar and pestle, (phht)the kitchen whizz allows bulk production, share with the frenzies.<br/><br/>I use apple cider vinegar. Lets not get too pedantic, after all, food isjust another expression of Lurv
Blend the chillies, garlic, ginger and lemon grass in a food processor or mortar and pestle.
While processing gradually add the vinegar.
Place the pureed mixture into a saucepan and bring to a boil.
Reduce the heat and simmer for 3 minutes.
Add the sugar and stir until dissolved.
Add the salt and lime zest.
Remove from the heat, cool and bottle in sterilised jars.