Greek-Style Chicken Burgers
teresas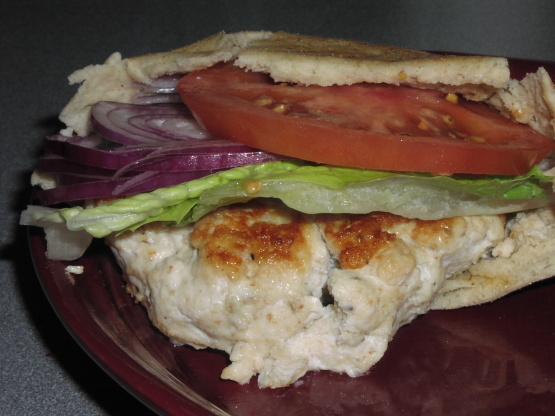 A nice change from regular hamburgers(probably healthier too)I made this recipe once to test it out,and my husband loved it so much it's now one of his favorite meals.Also good instead of mayo is tzatiki sauce,I can buy it at safeway in the deli section.

For a chicken burger...this was really tasty...I first thought that the mixture was really soupy...but once I put it in the fry pan and just left it alone...it firmed upped...I did enjoy the flavors...I also omitted the mint...this would have received 5 stars...but the burger with all the yummy stuffing's didn't fit into the pita bread...and I found some large ones...so either make twice as many burgers or put these yummy things on a bun...thanks for posting the recipe...made for Spring 212 PAC!
In medium bowl,gently mix together chicken,bread crumbs,egg,milk,lemon juice,mint,oregano,salt and pepper until well combined(mixing too vigorously will result in tough burgers).Shape into 4 patties each about 3/4 inch thick.
In a large nonstick skillet heat oil over medium-high heat.Cook patties about 8 minutes turning once,until golden brown and no longer pink inside.
Meanwhile,cut pitas in half crosswise to make 4 pockets.Warm pitas in 300 degree oven wrapped in aluminum foil for 5 minutes or in the microwave for 1 minute.
Spread inside of pita with mayo then place cooked patty inside with a slice of red onion ,tomato,and some lettuce.enjoy.