Found this recipe on the web. Sounds like it would be a great potluck or party salad.
Directions
Combine cooked rice, chopped artichoke hearts, tomato, cucumber, onion, feta, olives, parsley, lemon juice, oregano, and lemon pepper in a large covered bowl. Refrigerate for at least 1 hour prior to serving.
Just before serving, drizzle the reserved artichoke marinade over salad, toss to blend, then spoon onto a lettuce-lined salad platter. Prep time includes refrigeration time.
Most Helpful
This is a delicious salad that is so nutritious too! I made this almost as posted but, since I was packing this to take for my lunch and not serving on a bed of lettuce, I just added the marinade with the artichoke hearts and all the other ingredients. I also used brown and wild rice, which made is seem even healthier! Thanks for sharing this delicious salad. It would also make a great side dish, but it works well as lunch too!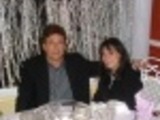 We really loved this salad. I made this pretty much as written except I pumped up the veggies a lot. Thank you for a great side dish to our Recipe #503614. It tasted like a visit to the Greek Isles. Thank you much Nancy. Made for team Tasty Testers for the Greek round during ZWT9.

I made this last weekend as a side dish and it was a nice change from the usual. I think next time I'll try brown rice instead.