mianbao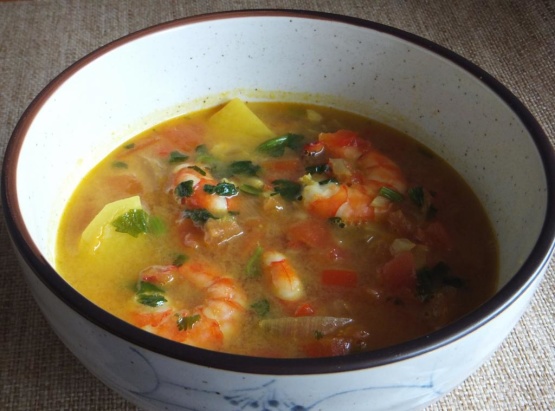 This is not really a stew, to my way of thinking - it contains too much liquid. The picture I posted should have shown even more liquid to be fair. Now, I hate splitting hairs about names, and actually prefer stews with little or no thickening. This does seem to exceed the limits for wateryness. Other than that, it wasn't hard to make, and the flavor is acceptable. I did reduce the amount of saffron, because mine is fine ground, not in threads, and can be ferocious. I also cut the amounts of turmeric and mustard, though I suppose I could have left them as is. The flavor does not seem to be lacking in spice, though. Thank you very much for sharing this recipe with us. It was educational.
Heat the oil in a large stockpot or dutch oven.
Add the onions, bell peppers, and jalapenos and cook, stirring until the vegetables began to soften, about 5 minutes.
Add the garlic and cook till fragrant, about 30 seconds.
Add the tumeric, mustard, and saffron and stir to combine.
Add the wine and cook another 2 minutes.
Add the shrimp/chicken stock and poptatoes and bring to a boil.
Boil for 5 minutes.
Lower to a simmer and add the tomatoes.
Cook for 20 minutes.
Add the shrimp and simmer until cooked through, about 4 minutes longer.
Season with the salt.
Stir in the cilantro, remove from the heat and serve.