Gluten Free Raspberry Coconut & Yoghurt Muffins
val3ri3B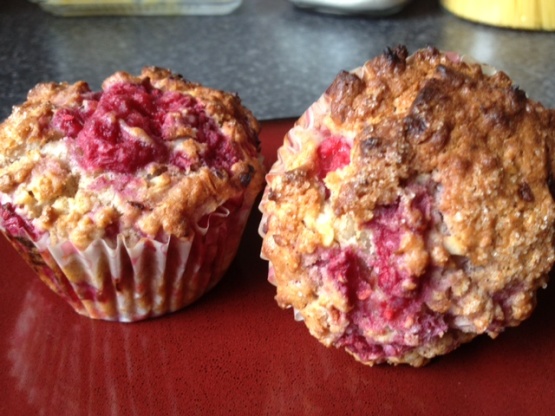 Delicious & healthy gluten free muffins. You won't even know they are gluten free!

This interested me because it is rare to see coconut used with another fruit. My husband has given it 4 stars, I would have given 3. The flavour was a bit flat. Rather than using stevia, I used the same serving size of regular sugar which left it not sweet. And there was a too subtle hint of cinnamon. <br/><br/>I filled the cases to the brim and sprinkled a cinnamon/sugar mixture on top which made a lovely crunchy topping. That is something I would highly recommend. And when I make them again, I'll be sure to add a touch more cinnamon, vanilla, nutmeg and sugar.
1. Prepare muffin pan with cooking spray, or with paper baking cups. Preheat oven to 180º Celsius.
2. Combine dry ingredients in a large bowl, and set aside.
3. In a medium bowl, combine yogurt, oil, egg, and vanilla.
4.Gently stir yogurt mixture into flour mixture until dry ingredients are moistened, but batter is still lumpy.
5. Gently fold in raspberries.
6. Fill muffin cups almost to top.
Bake 18 to 20 minutes, or until golden brown.