German Bean and Sausage Soup
Prep 10 mins
Cook 20 mins

Another addition to my 2005 World Tour collection. Quick and easy, this looks like a great mid-week supper.
Directions
Heat oil in a saucepan over medium heat. Sauté onion 4-5 minutes, stirring frequently, until tender.
Add carrots, potatoes, parsley, marjoram beans and stock to pot. Season with salt and pepper to taste. Bring to a boil. Reduce heat to low, cover and simmer about 15 minutes or until vegetables are tender.
Add sausage and green beans. Cook until thoroughly heated.
Reviews
Most Helpful
Fantastic, flavorful soup. I doubled the recipe in order to get a good batch, and I'm sure glad I did. The seasonings are perfect. This is a real keeper, and will be made a lot next winter, I guarantee! Made for ZWT4.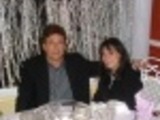 I loved this soup! I made it 2 nights ago, allowed the flavours to mingle overnight and had it for dinner last night. It was far more flavourful than I expected. I'll be making this again. Thanks for posting.

As good as any Sausage Soup I have eaten in Germany. I love the fact that is very kind to any subsitutes, and changes, as long as the basic is kept true, e.g. the white beans are easily subsistuted, even using chick peas when nothing else in the cupboard. Everyone that has eaten it in my home has loved it. What more can I say, except, thank you toni, a very easy recipe, a quick evening meal, or a late supper, whichever, the guests will love it. My husband has heart problems, and this easy to adapt to his needs. Thanks again.