Lennie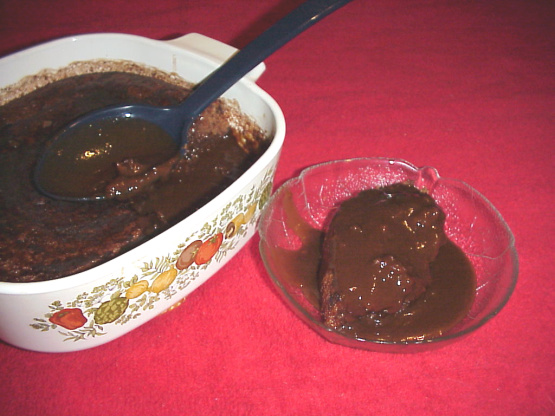 This comforting chocolate dessert (a cake with its own sauce) is a favourite with my family; I've been making it for years. It's so easy to whip up, and inexpensive too. I'm positive this was a Company's Coming recipe, although I don't remember in which particular book I found the recipe.

This is one of my favorites! A great cake for chocolate lovers. Warm and delicious.
Preheat oven to 350 degrees.
In a mixing bowl, combine flour, sugar, first amount of cocoa, baking powder and salt.
Add milk and oil.
Mix together with a spoon and scrape into an 8-inch casserole that is fairly deep.
In the same bowl, mix brown sugar and second amount of cocoa together.
Add hot water (not boiling).
Stir to dissolve sugar, then pour over batter but DO NOT stir.
Bake, uncovered, for 40 minutes; batter should have risen above the sauce and be firm to the touch.
Serve warm with vanilla ice cream or Cool Whip.