French Toast Breakfast Sandwich With Canadian Maple Syrup
Leslie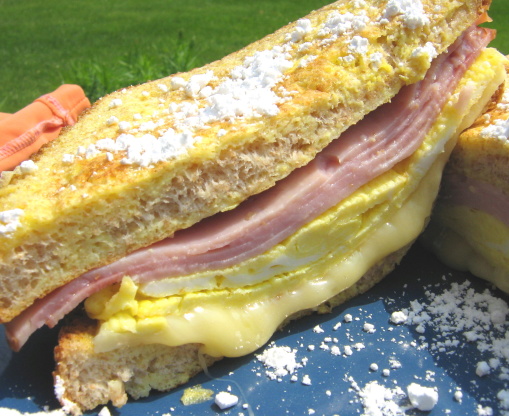 Ham, cheese, and eggs on French toast. I am quite proud of this creation.

These are really good and easy to make. I added instant vanilla to both the eggs and french toast mix to give it more of a sweet flavor. I also made actual french toast first by using my fave f.t. recipe and browning the inside of the bread first. Then I flipped, put the sandwich together, and browned the outside. So yummy! Next time I'll try bacon or sausage in place of the ham. Thanks for posting!
In a nonstick skillet scramble 2 eggs in 1 tsp butter till done to your liking.
Remove eggs and set aside and wipe out skillet.
Assemble the sandwiches with one slice of swiss cheese, 2 slices of ham, 1 scrambled egg, top with another slice of cheese.
Break remaining egg into a bowl with 1 tsp milk and mix well.
Brush the sandwiches liberally with the egg wash with a pastry brush (but don't saturate the bread) and grill over medium/medium high heat in a nonstick skillet in 1 tsp of butter till golden brown. (grill the egg side down first and the melted cheese will help hold the sandwich together when it is time to flip it)Add another tsp butter and flip carefully to grill other side until golden.
Serve with grape jelly or maple syrup on the side.